Looking for the perfect elopement locations in Victoria BC or on Vancouver Island? Here's your ultimate elopement destination list!
Need an Elopement Photographer? Let's chat! 
Elope in Nature on Southern Vancouver Island
Mystic Beach
Located near Jordan River, BC, about 70km West of Victoria. To access Mystic beach, there is a 30-40 minute downhill hike in, and 45 minute hike uphill on the way back. Bring hiking attire. Some officiants or vendors may not feel comfortable accessing the beach.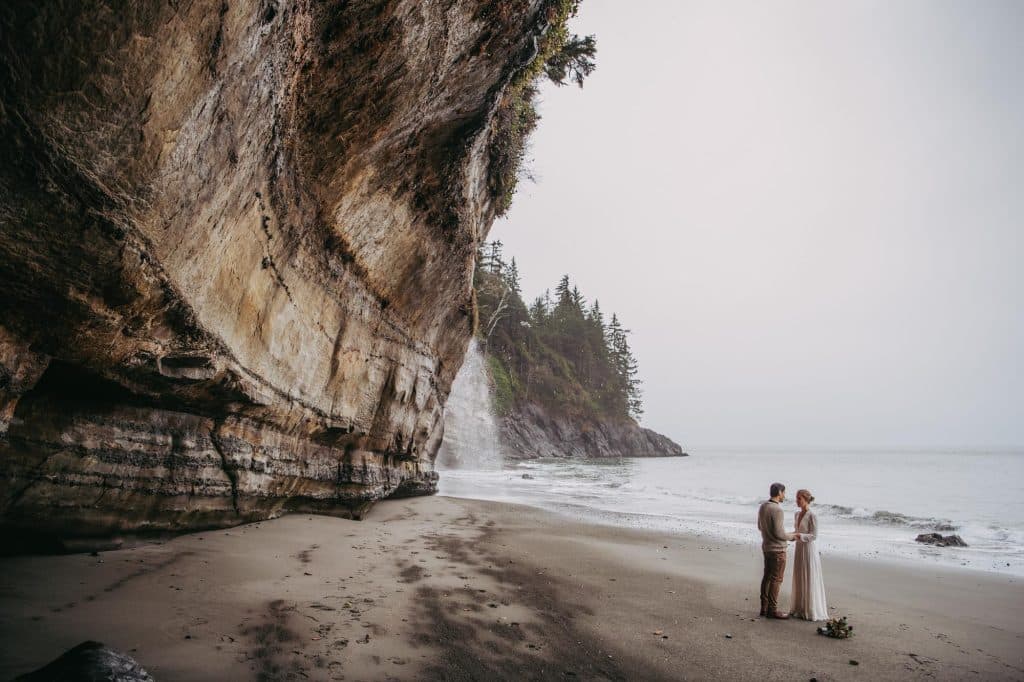 M&P's Mystic Beach Elopement Photos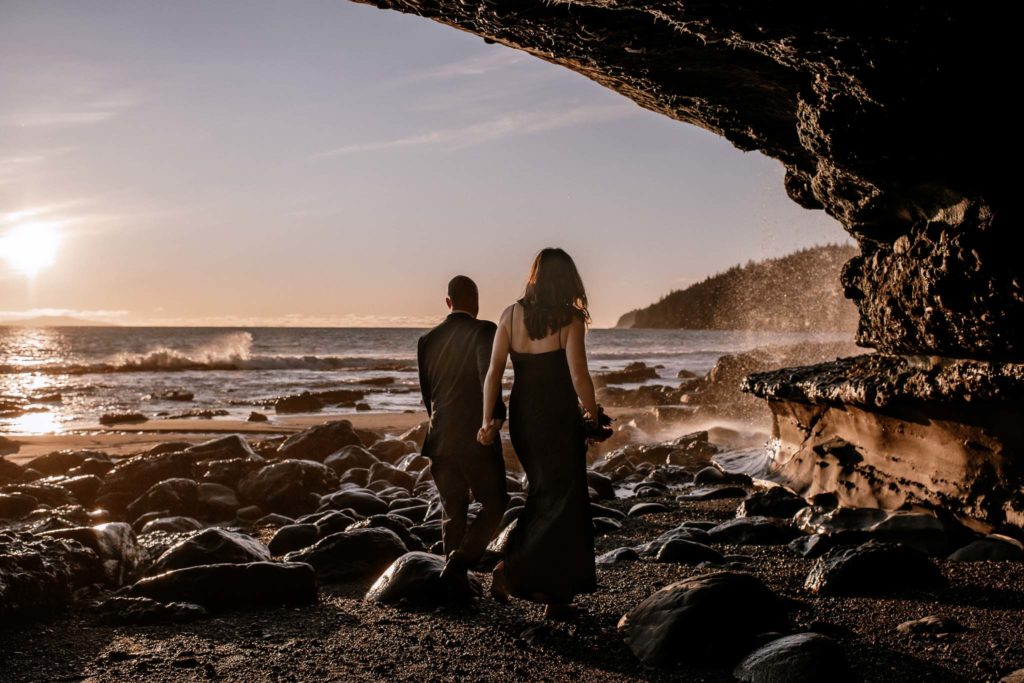 A&G's Vancouver Island Elopement Photos
East Sooke Park
East Sooke Park, or Alyard Farm as it is known, is a regional park located in East Sooke, about 40 minutes from Victoria. It boasts forest, fields, beaches and a rocky cliff area. It is moderately accessible for most people.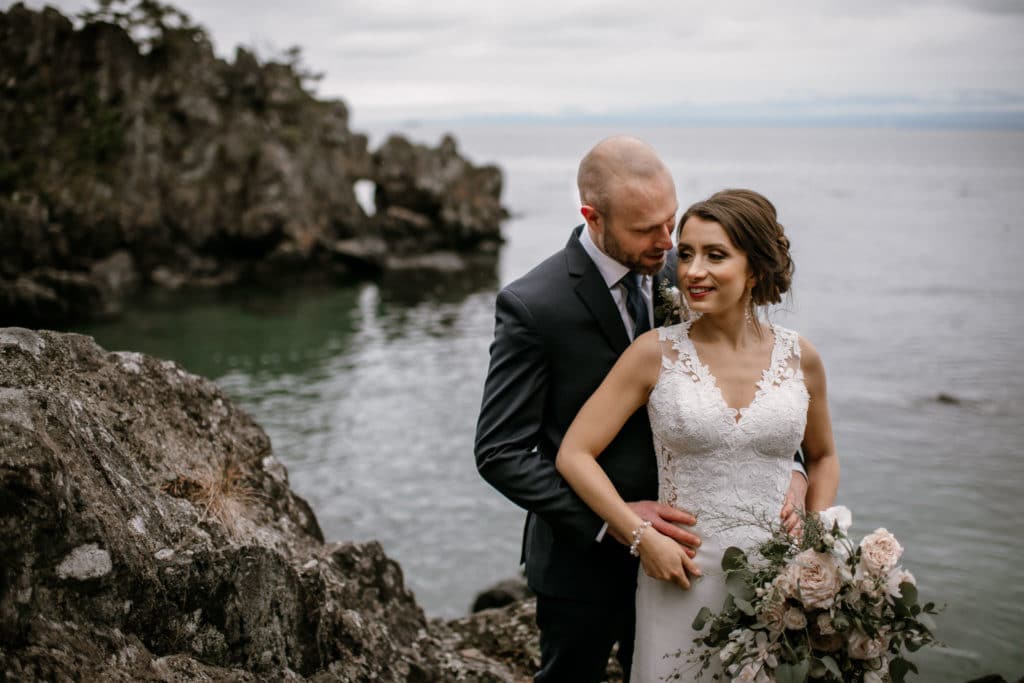 D&J's Sooke Prestige Resort Elopement Photos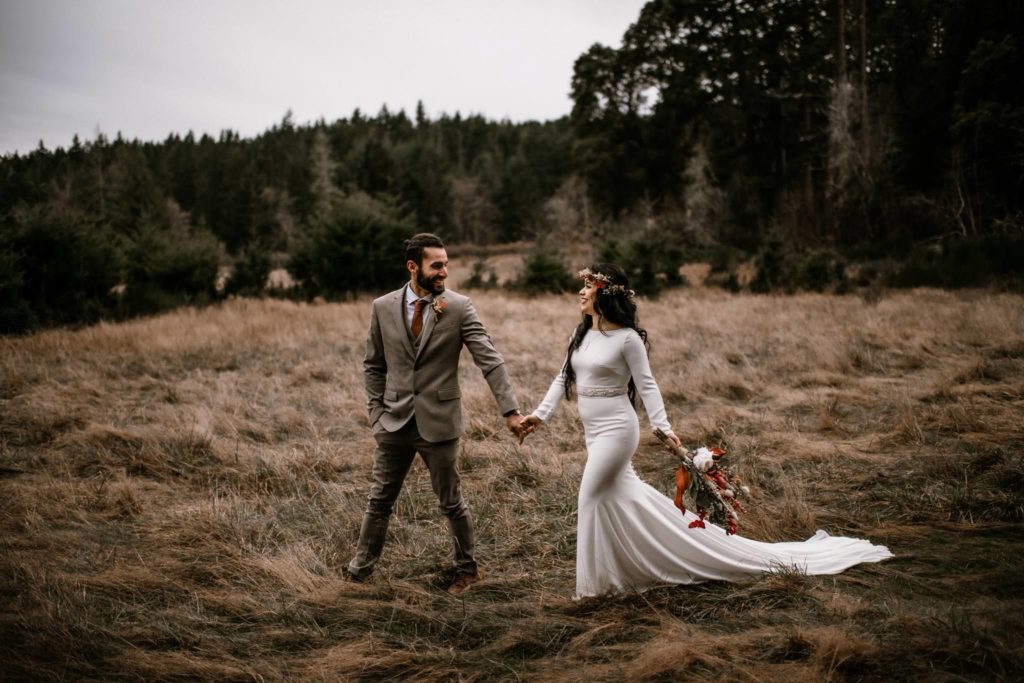 N&R's Vancouver Island Elopement Photography
Saxe Point Park
Saxe Point is located in Esquimalt, about 10-15 minutes from Victoria. It is a local park that has rocks, trees and a beachfront. It is quite busy regularly, but can be booked for micro-weddings on it's lawn (or small intimate weddings occur there more casually).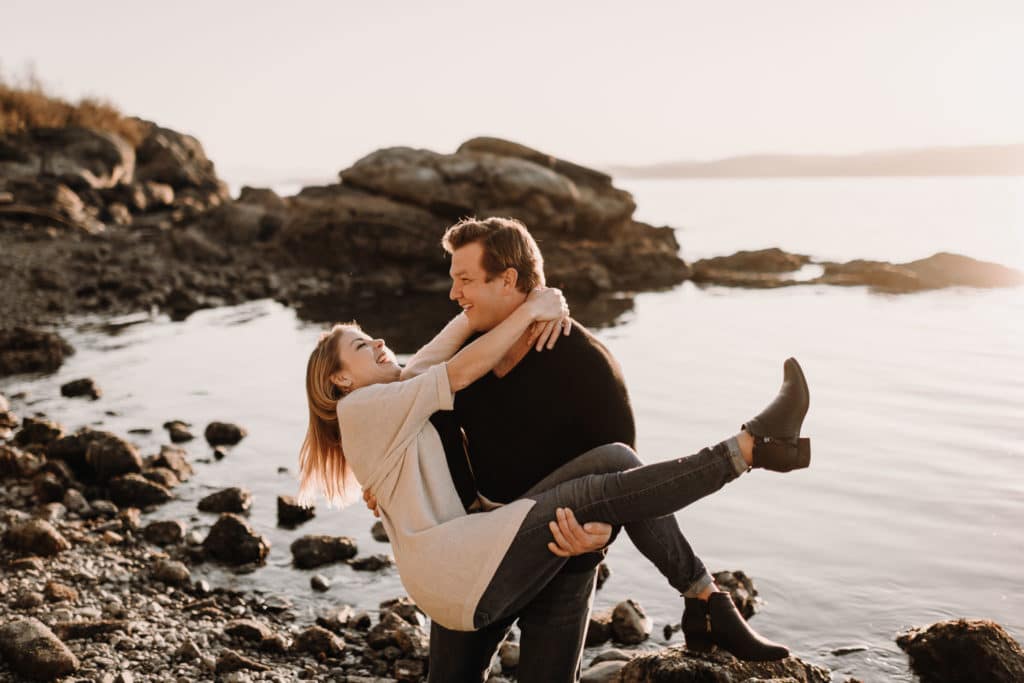 K&M's Engagement at Saxe Point Park in Victoria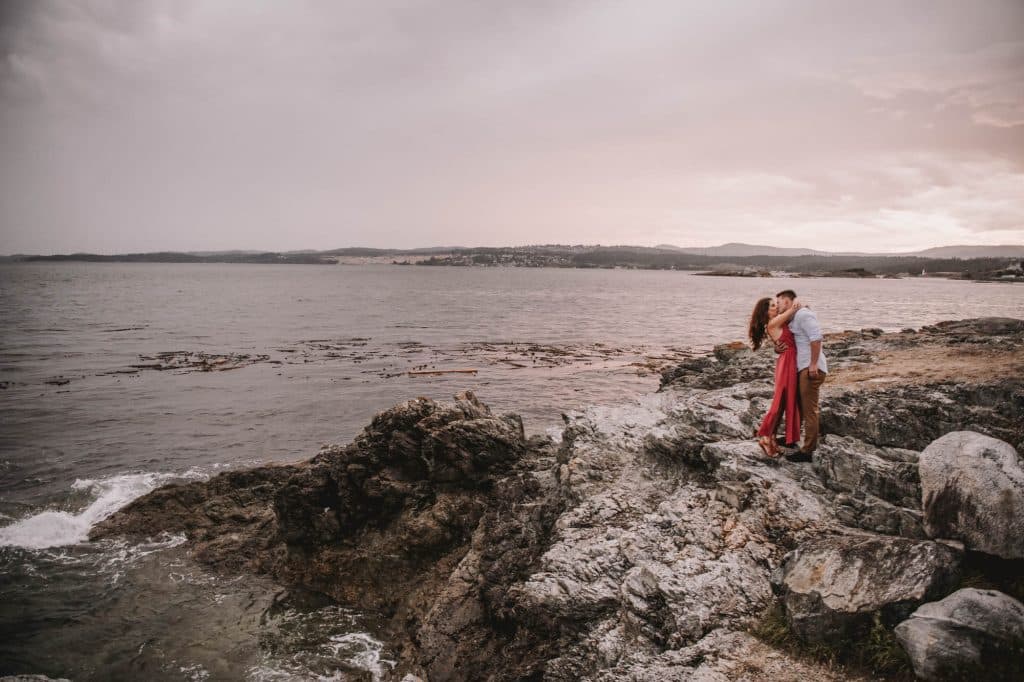 B&C's Engagement Photos at Saxe Point in Victoria BC
Mount Douglas Park
Mount Douglas Park is a large regional park located in Saanich, near the University of Victoria and Cordova Bay. It has a number of different terrains to choose from, from a groomed park, old growth forest with walking trails, an east facing beach called Mount Douglas Beach, and a summit which gives panoramic views of Victoria and it's surrounding areas. This is also a busy park, but you can usually find a small corner to yourself depending on the time of day. The summit is only open from around noon until sunset for vehicle traffic, and parking is very limited.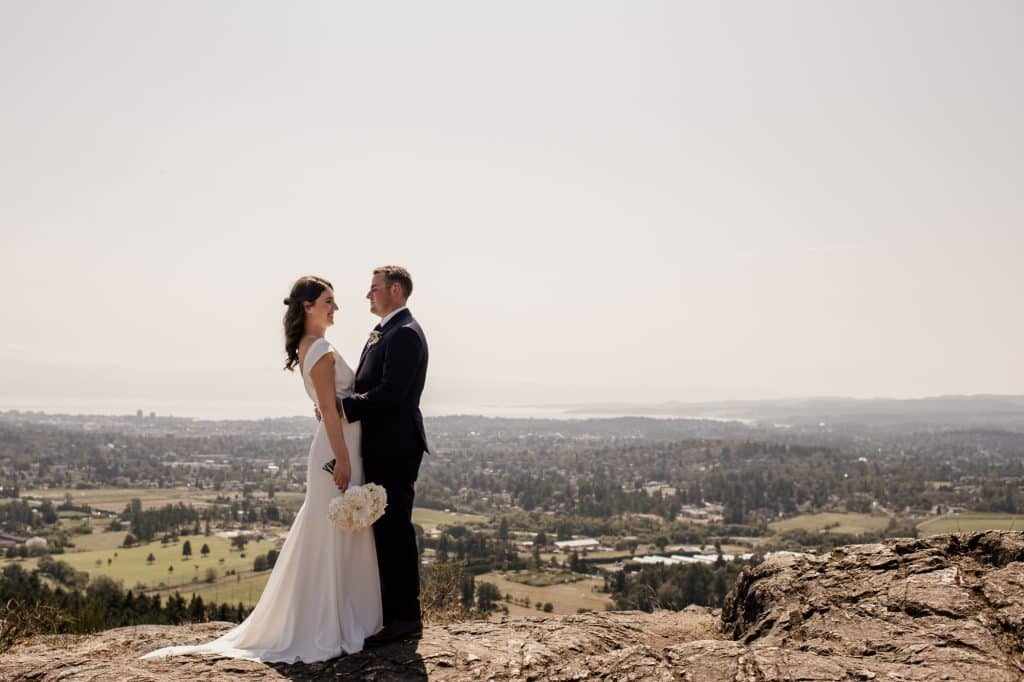 D&N's Victoria Beach House Wedding (portraits on Mount Douglas Summit)
Kitty Islet
Kitty Islet is a small park located in Oak Bay, BC. It faces south and is about 5-10 minutes from downtown Victoria. It is great for small elopements due to its proximity to other photo locations.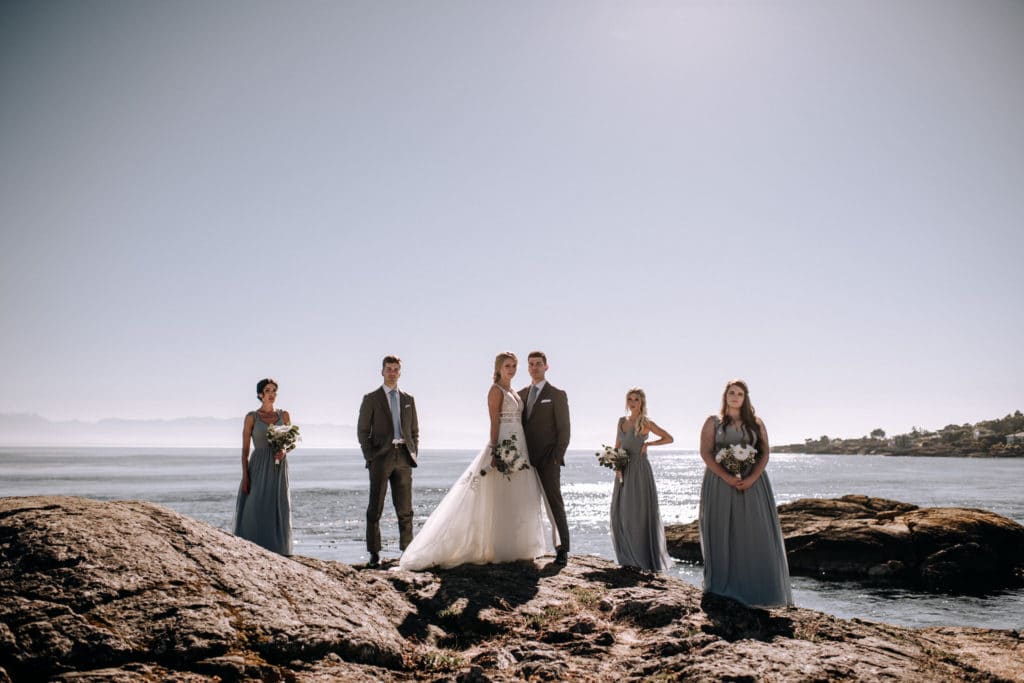 S&B's Victoria Golf Club Wedding with Portraits at Kitty Islet
Mount Tolmie Park
Similar to Mount Douglas Park, but smaller and with less panoramic views. It doesn't have a ton of forest areas, but instead offers tangly garry oaks, arbutus trees and tall grass.  It is easier to access before noon, and has more parking than Mount Douglas Park. It is a bit busier on most days.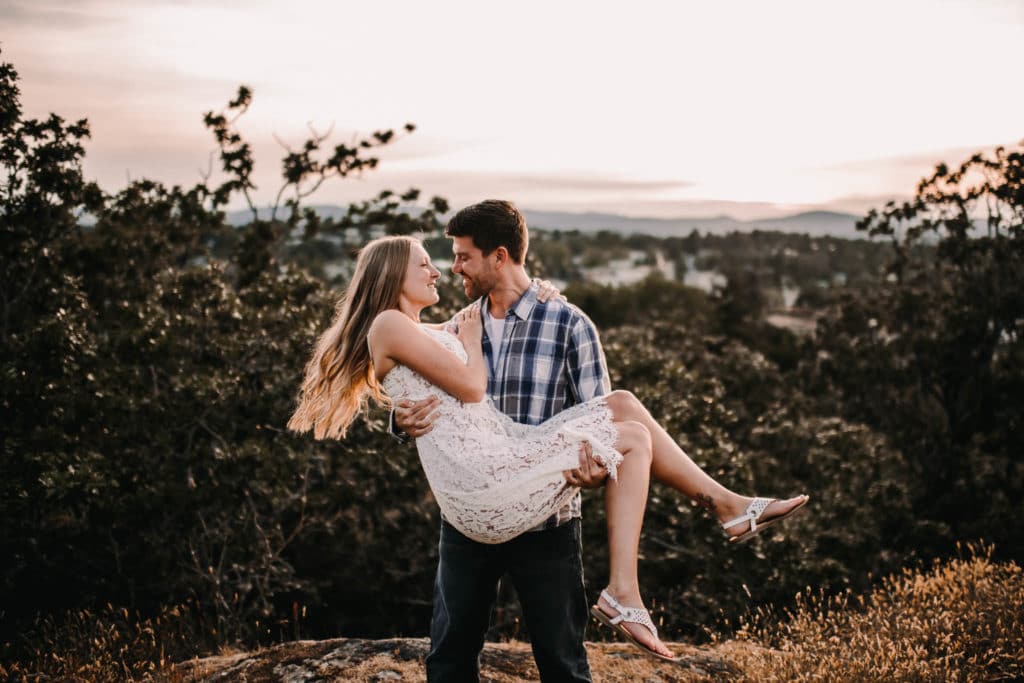 S&B's Engagement Photos at Mount Tolmie in Victoria BC
Other Notable Outdoor Spaces:
Beacon Hill Park in Downtown Victoria
Francis King Park
Tower Point Park
Cattle Point in Victoria BC/Oak Bay
Anderson Hill Park
Dallas Rd Waterfront & Beaches
Victoria BC & Area Venues with Indoor/Outdoor Spaces
Eloping at a local venue may mean more coordinating in the beginning, but having permission to elope at a private property or at a historical location has the benefit of more privacy, an on-site coordinator to ask questions and occasionally the option for indoor spaces if there is inclement weather (or if your elopement is in the rainy months of November to April in Victoria). Here are some of my favourite local venues that are suitable for elopements (booking at these venues is usually required).
Prestige Oceanfront Resort Sooke
The Prestige is a beautiful white hotel with columns, a gazebo overlooking the waterfront and a private dock. They also offer an indoor ceremony space in their downstairs foyer, and a reception room. The Prestige is about 45 minutes from Victoria in Sooke BC, but is a great one stop location for everything you'd need on a wedding day.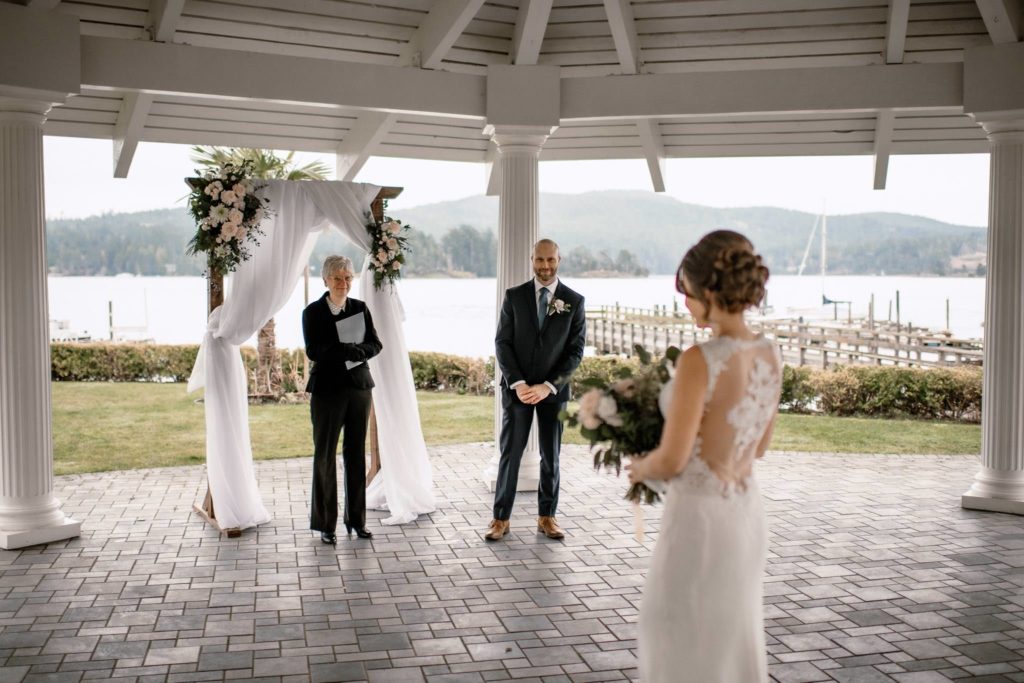 D&J's Wedding Photos at The Prestige Resort in Sooke BC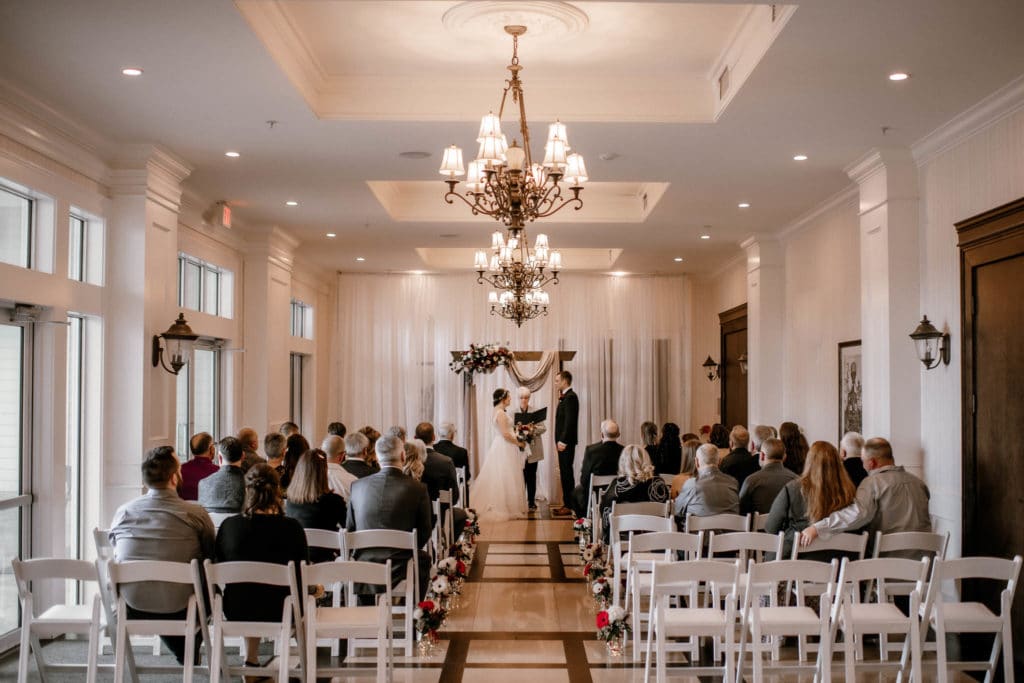 D&C's Wedding at the Prestige Oceanfront Resort in Sooke
Deep Cove Winery
Deep Cove Winery is located in North Saanich, near the Victoria International Airport and Ferry Terminal. It has an indoor space, a working vineyard, and an outdoor covered crush pad that makes a great backdrop for elopements and ceremonies. There is also a small beach nearby.
Check out J&T's Deep Cove Winery Wedding Photos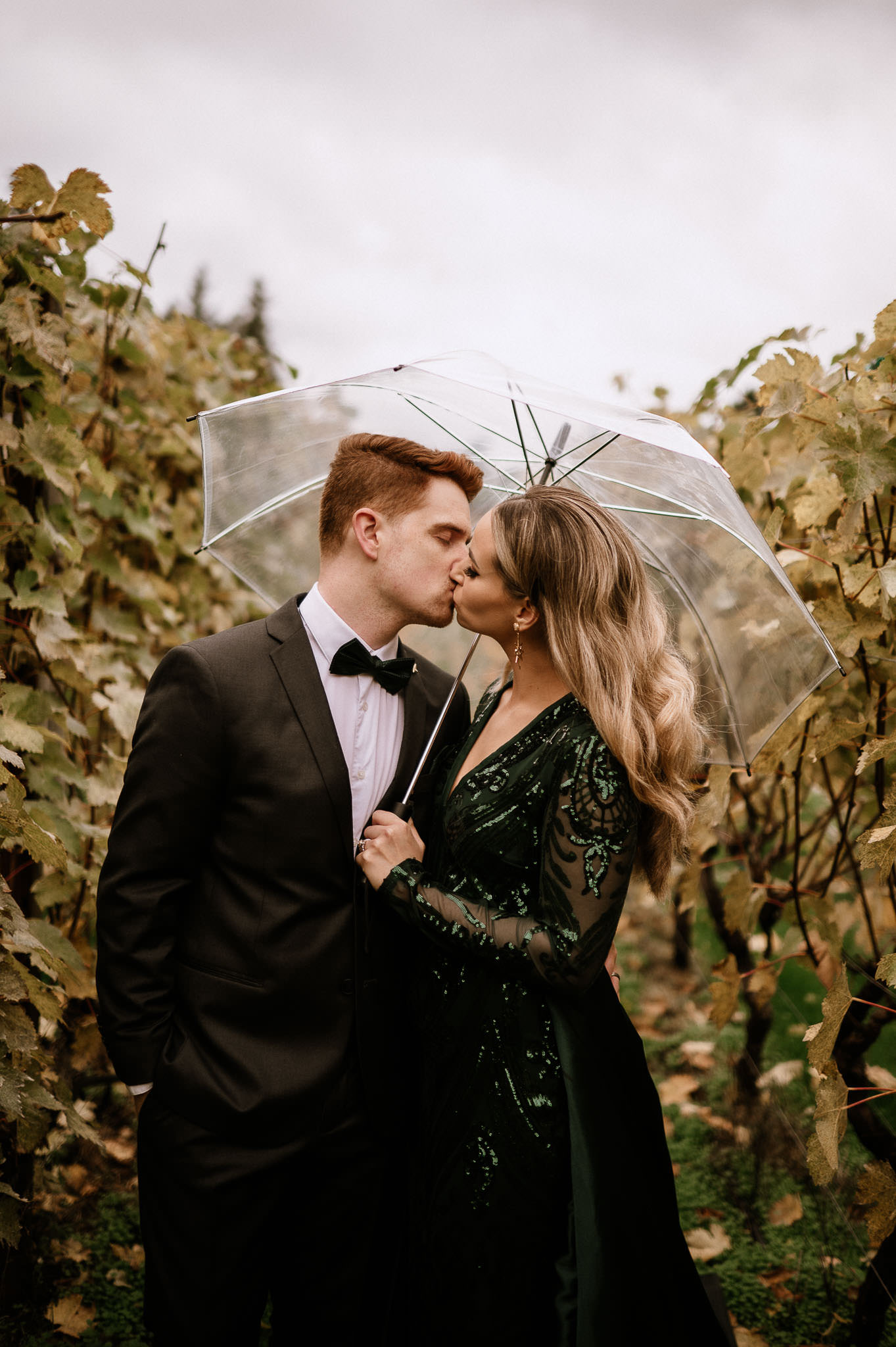 Inn at Laurel Point
The Inn at Laurel Point is located on the Victoria Harbour and has some of the best views around Victoria. They offer both indoor and outdoor options for your ceremony and offer a reception space for intimate weddings and larger weddings. They also offer wedding packages for their rooftop penthouse suite, overlooking the inner harbour.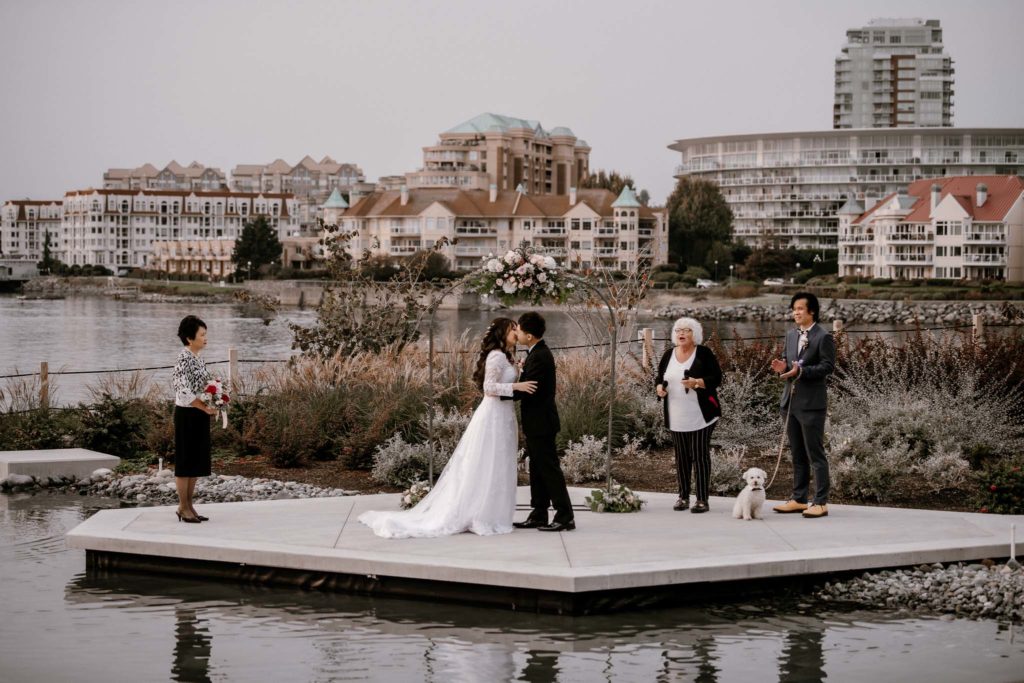 M&M's Wedding at the Inn at Laurel Point in Victoria BC
Government House
Government House offers the use of their grounds for intimate weddings year round, subject to availability and other scheduled events. Government House has manicured classic gardens and wild open space alike. It is located centrally in Victoria, BC.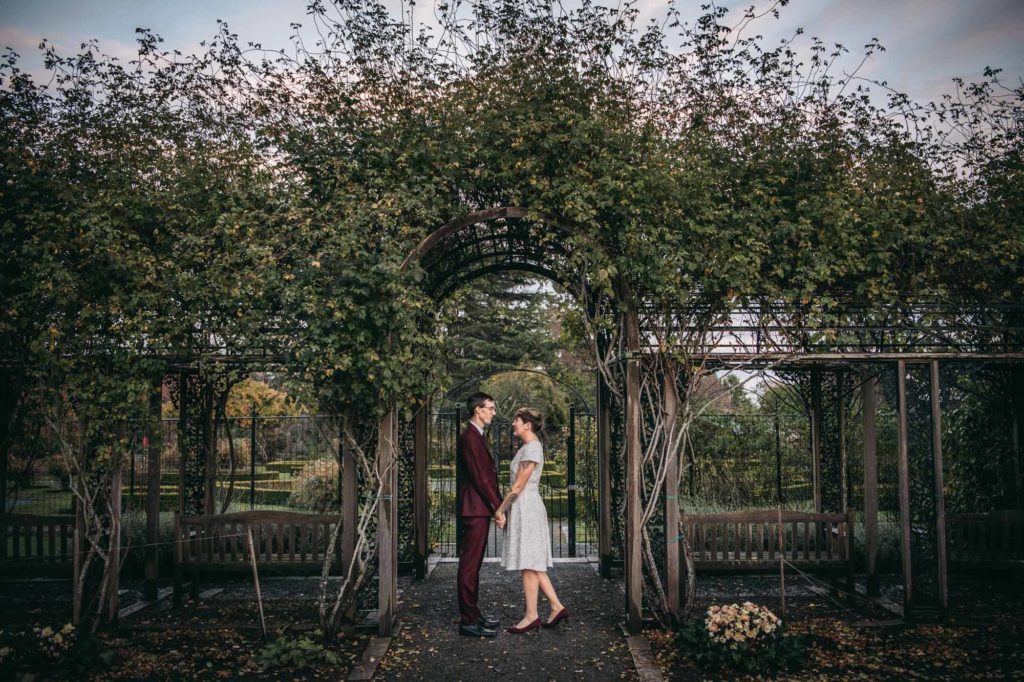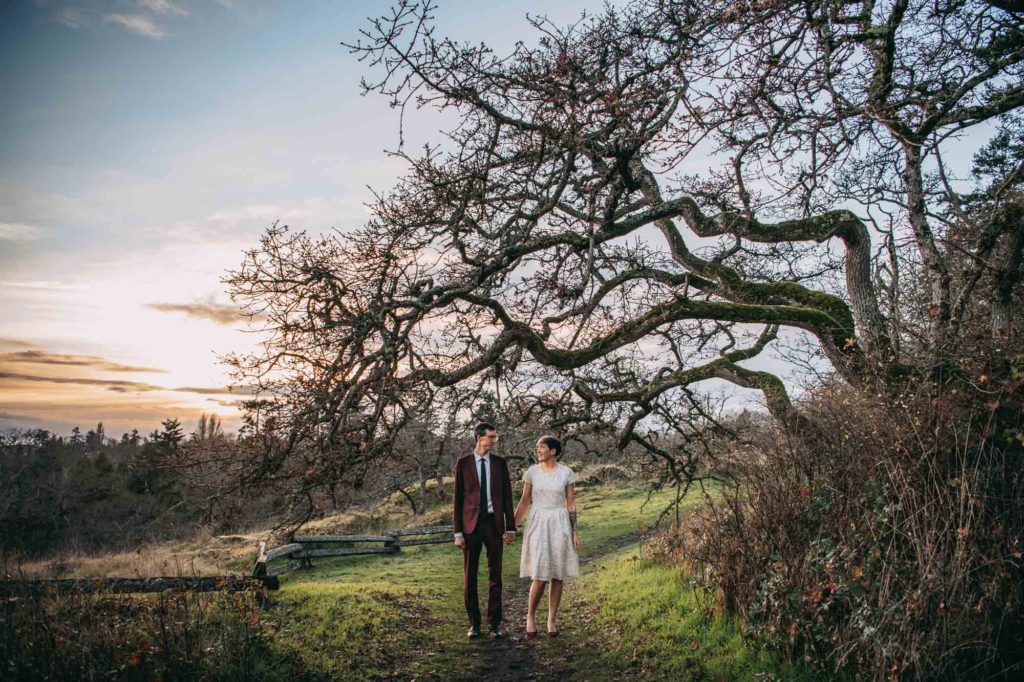 HCP is located just north of Victoria, about 15 minutes from downtown. It offers the use if it's massive grounds with plant life, flowers, trees, a small japanese garden, as well as an indoor space that can be utilized for both ceremonies and receptions from small to medium size. They also offer an on-site coordinator.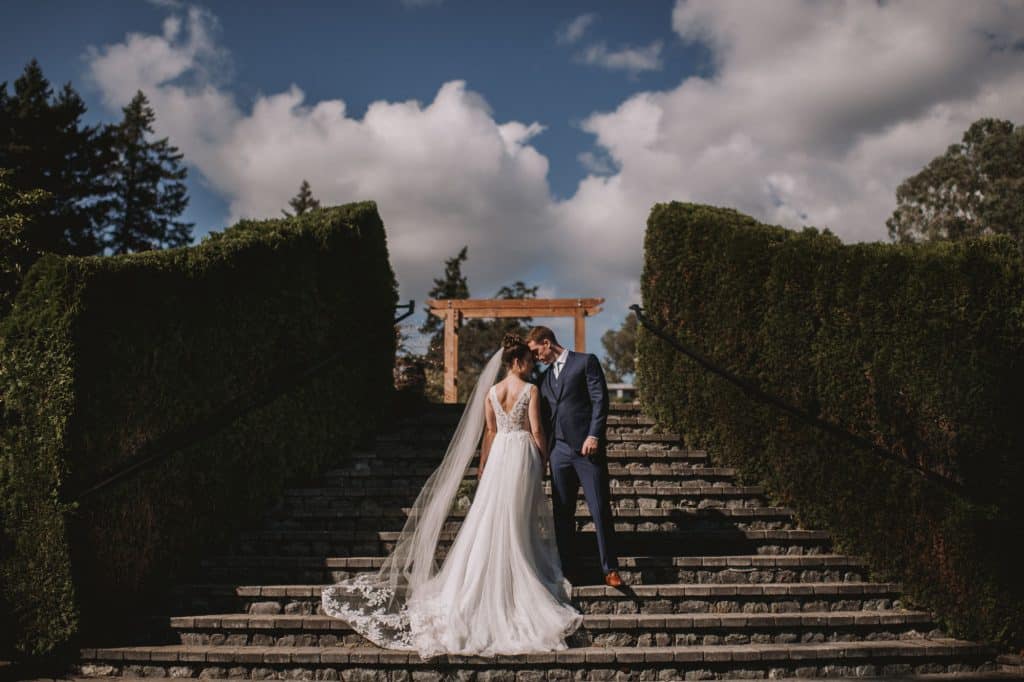 E&S's HCP & Fireside Restaurant Wedding Photos in Victoria BC
Hatley Castle is a historic site that is also now used as a university. They allow rentals of a few different spaces for elopements and weddings. They also offer beautiful indoor spaces in addition to their manicured gardens. The site overlooks the Esquimalt Lagoon and the Straight of Juan de Fuca, and is located about 20 minutes from Victoria.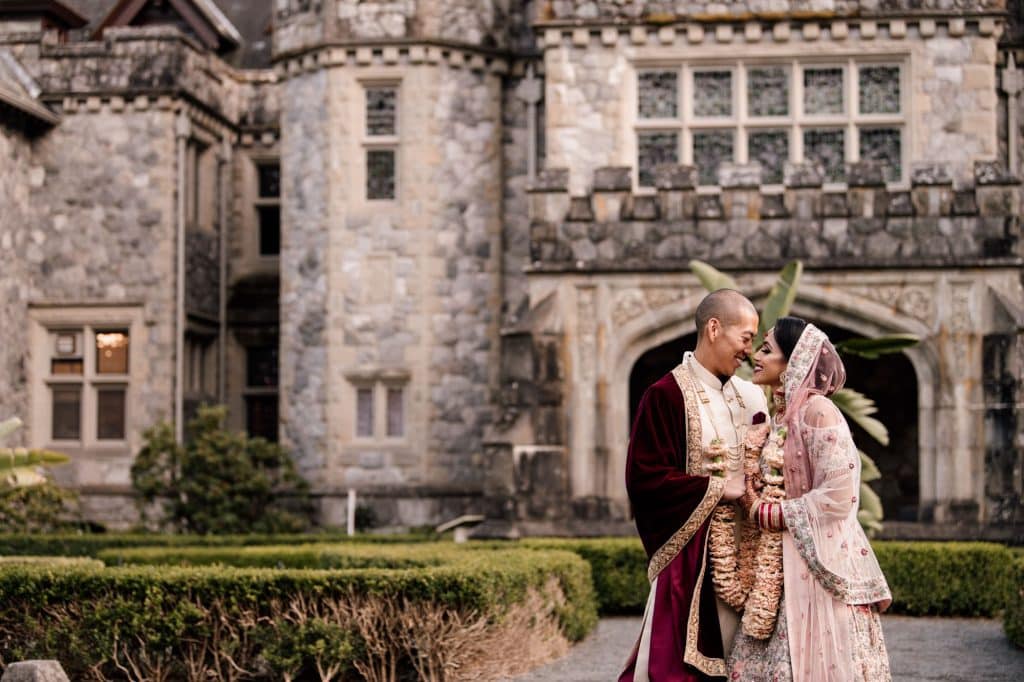 D&A's Hatley Castle Wedding Photography in Victoria BC
The Beach House offers three options for their ceremonies, whether they are small or large. They have an outdoor grassy area that overlooks the beach, a beachfront ceremony option, and an indoor space that is rustic and warm. They also offer on-site coordinators. The Beach House is located in Cordova Bay, about 25 minutes from downtown Victoria.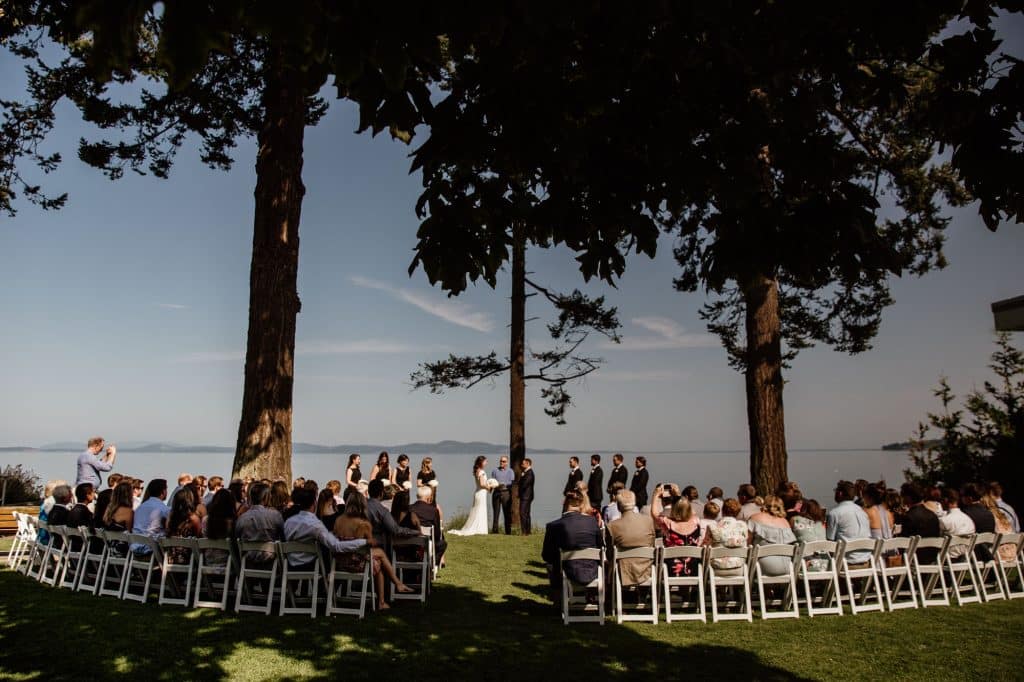 D&N's Beach House Wedding in Victoria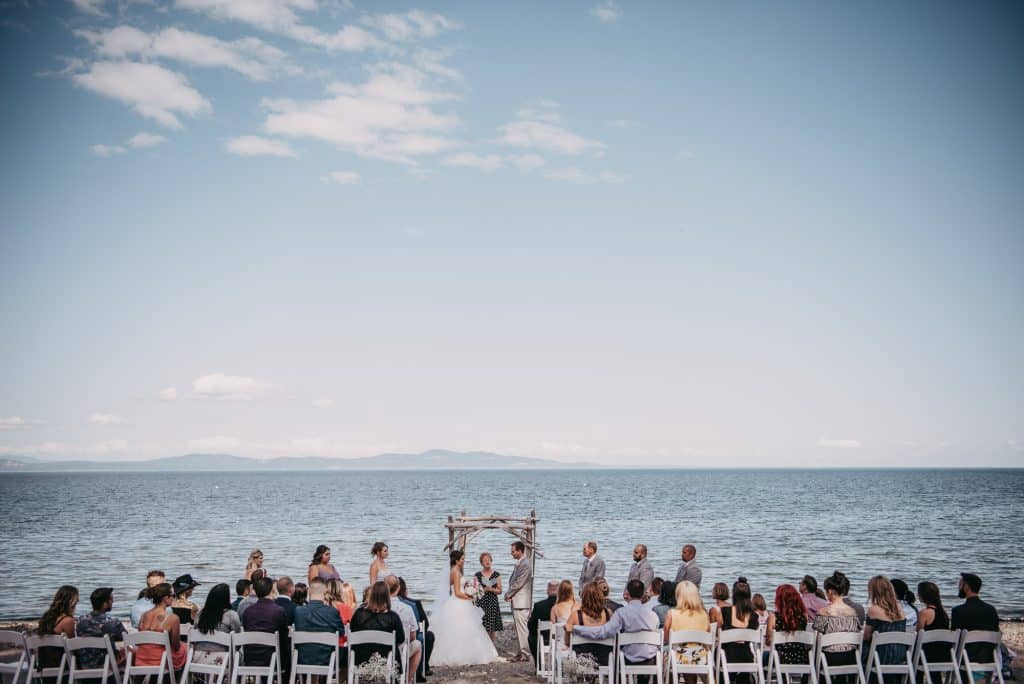 L&A's Beach House Wedding Photos in Victoria BC
Oak Bay Beach Hotel
Oak Bay Beach Hotel is located in Oak Bay and offers a hotel/resort feel. They provide options for large scale weddings and elopements alike. They also have a beautiful on site spa and hot tubs that overlook the ocean. The hotel is located about 15-20 minutes east of Downtown Victoria.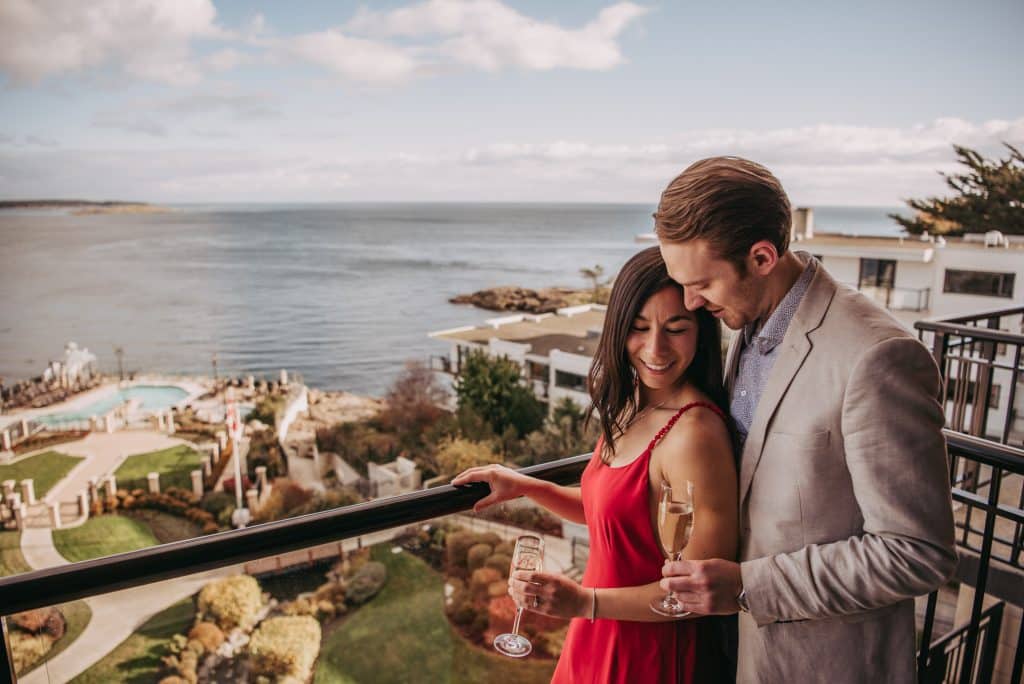 K&M's Proposal at Oak Bay Beach Hotel near Victoria BC
Other Indoor/Outdoor Venues
Villa Eyrie
The Delta Hotel Victoria
The Fairmont Empress
Sidney Pier Hotel
Brentwood Bay Resort
Sea Cider
Starling Lane Vineyard
Bilston Creek Farm
Church and State Winery
Airbnb's (not all allow event bookings)
Cedar Haven
Parkside Hotel
Fireside Restaurant
Looking for an elopement photographer for your Victoria BC or Vancouver Island Elopement? I'd love to chat about your vision! Get in touch.