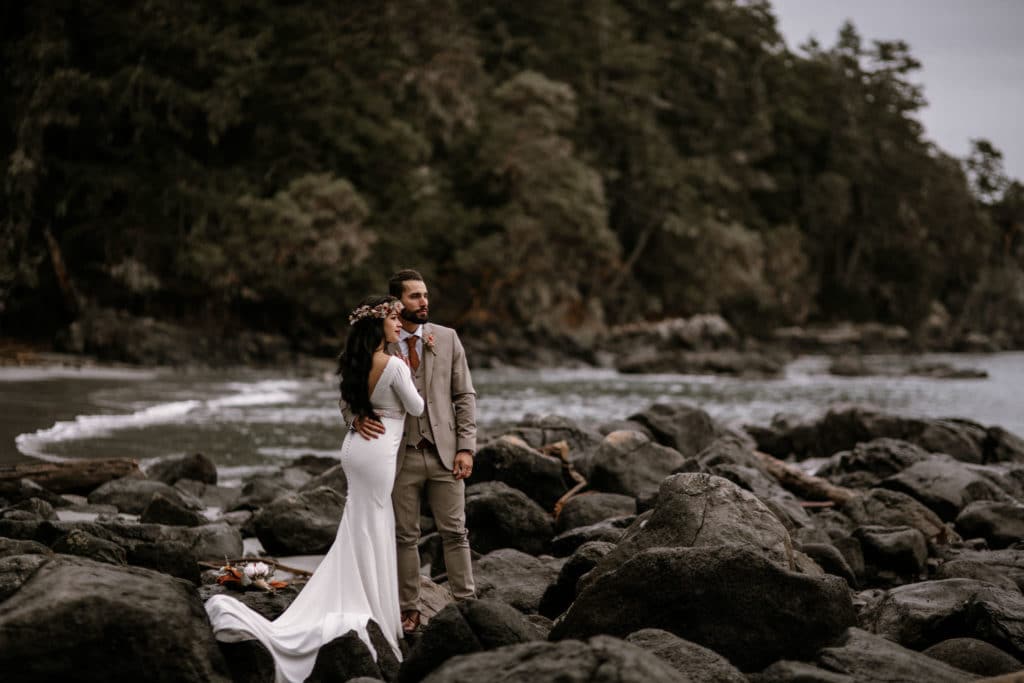 Elopements have been all the rage in the last year or so due to the pandemic, but the option to elope has always been there – it's just now more popular than ever. Wondering, "Is eloping for me?", or looking for more info about how you can go about having an elopement, micro-wedding or intimate wedding? You've come to the right place.
What is an elopement?
An elopement has historically been known as a way to get married in a stealth or private way. Eloping in the past involved planning in secret, getting married and then telling everyone afterwards. People eloped to destinations worldwide and would often honeymoon at the same time.
These days, eloping can take on a few different forms. When people say they plan to elope in 2021, it usually means they are opting for a wedding with just the couple, a pair of witnesses (sometimes their vendors), and occasionally a couple of family members or friends. People have started using the word "Elopement" to mean anything from a true run-away-to-get-married situation, to micro-weddings & intimate weddings (very few guests, a small dinner or celebration afterwards). It can also mean simply having a legal ceremony and saving the celebration for a time when we can all get together again.
Is an elopement for me?
For some couples, traditions can't be broken. Then there are the rest of us 😉
When deciding whether or not you should elope, you should carefully consider where your priorities lie when it comes to your wedding. Here are some questions to ask yourself when making the decision about eloping, or holding out for a full-day wedding:
Is this day more for the two of us, or our family and friends (or both)?
Will our family be able to get over not being there on our wedding day?
Is the party the most important part, or do we simply want to be together and do the damn thing?
What will our guests/witnesses bring to the ceremony? Is this something we can do without?
Are we comfortable sharing just the photos/video with our family and friends?
Will we regret not holding out for a larger wedding down the road?
How important are traditions to us? (seeing each other at the aisle, preparations with our wedding party)
How much freedom do we want on our wedding day? (large weddings have fairly tight timelines, whereas elopements let you go with the flow)
Do we want to have an offbeat wedding that allows us to do whatever we want?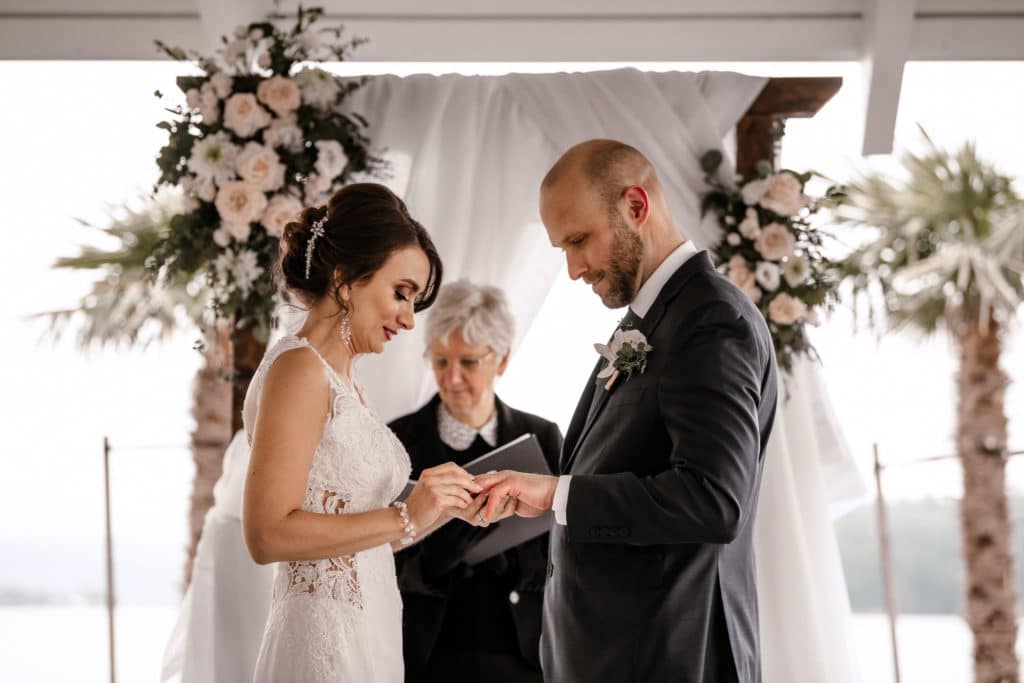 What does an elopement day look like?
An elopement can basically look however you want it to. You can embrace an offbeat wedding or stick to some of the more usual traditions. Every elopement is unique because every couple is unique in their priorities. Here's some inspiration for what the possibilities are:
Getting ready together, having your partner tie your tie or do up your dress
Sharing personal and private vows
Doing something uniquely you – going to a pub for a pint, getting ice cream, having a picnic, climbing to a hilltop, swimming in the ocean, walking through downtown, grocery shopping, a star wars light saber fight, visiting your favourite haunts, having an intimate dinner at home.
Having your ceremony somewhere completely unique, or off the beaten path (helicopter, mountain top, yacht, or at home!)
Cut a pizza instead of a cake
Doing your first dance in the rain or under the stars
The possibilities with an elopement are endless. Whatever you decide, you'll likely want to pick a ceremony time and officiant/celebrant, pick someone to document it, find a couple of witnesses (I'm happy to be one!), and the rest is completely up to you both.
What does an elopement ceremony look like?
An elopement ceremony can be as simple as signing the legal documents and doing a verbal declaration, to a full-on personalized ceremony with symbolic rituals (hand fasting, rock throwing, cultural traditions, a fusion of different cultures and readings. Ceremonies usually start around 15-20 minutes and can go longer depending on what you include.
If you're looking for a really hands off and simplified ceremony, hiring a marriage commissioner appointed by the government of BC is likely what you want.
If you want something more customizable, finding a wedding officiant, minister, pastor or celebrant might be more up your alley. They have the ability to customize a ceremony to your individual needs, and some will hand write something unique to you both.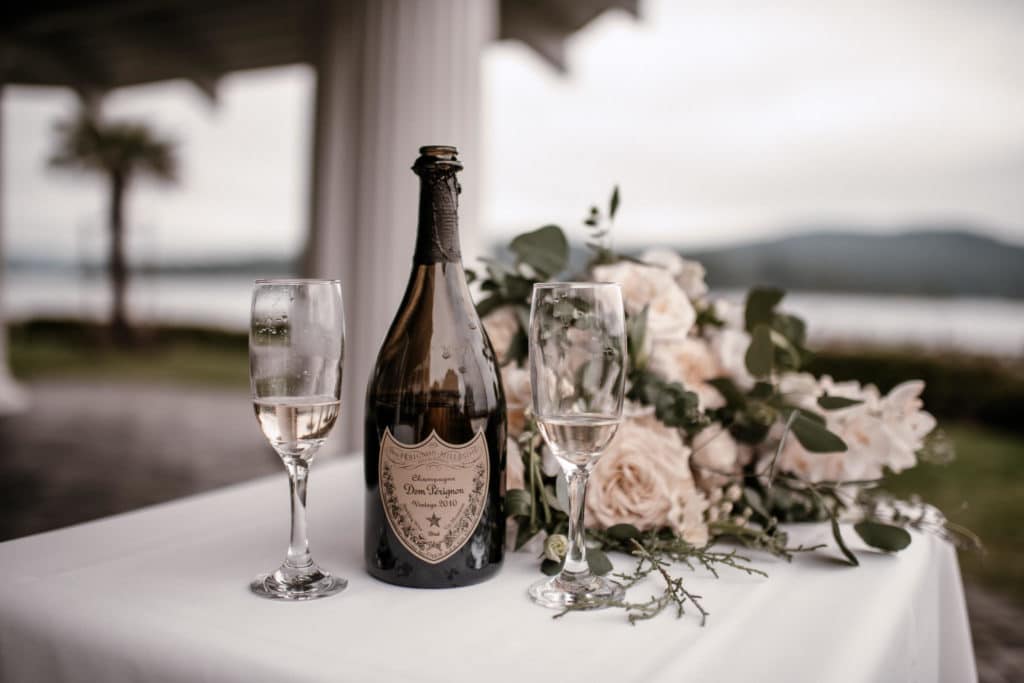 How much photography coverage do I need for my elopement?
Most elopement packages begin with coverage of the ceremony, and creative portraits to follow, but you can be as minimal or as extra as you want when it comes to what you'd like captured. For elopements, I recommend considering whether a smaller full-day package would tell more of a story for you both, or if just the essentials and a couple of hours of coverage are all you need.
For me, there's nothing better than having a wedding album to look back on that shows the day from start to finish. From having breakfast together, to the ceremony, champagne toast or cheers and portraits, to an intimate dinner and first dance.
What other vendors or things do I need to book to elope?
If you book us for photography, we also offer an all inclusive Elopement Package which includes your coordinator, officiant and florals. You can also plan everything yourself with vendors of your choice.
Here are some ideas:
Planner or coordinator – If you need decor setup or someone to help organize everything for you and to book vendors.
Officiant or Celebrant
Florist – For a bouquet, boutonniere, or for ceremony decor
Baker – If you want a simple cutting cake for your elopement
Decor – If you'd like an arch for the ceremony, decor to create an aisle or backdrop, or something else unique.
Venue – If you'd like to elope at a private property, finding a venue that does elopements may help. This also provides a backup for inclement weather.
Videographer – If you want things recorded in video in addition to photos
Dinner Location/Reservations – If you plan to have a celebratory meal – this can be at a restaurant or you can have it catered. You could also do a grazing box of charcuterie in lieu of a dinner.
Accommodations – You will want a minimum of two nights accommodations if visiting Vancouver Island/Victoria from elsewhere for your elopement.
Hair & Makeup Artists – If you don't want to do this all yourself, hiring a team that will come to you is helpful!
If you work with me, you also get access to my exclusive preferred vendor list!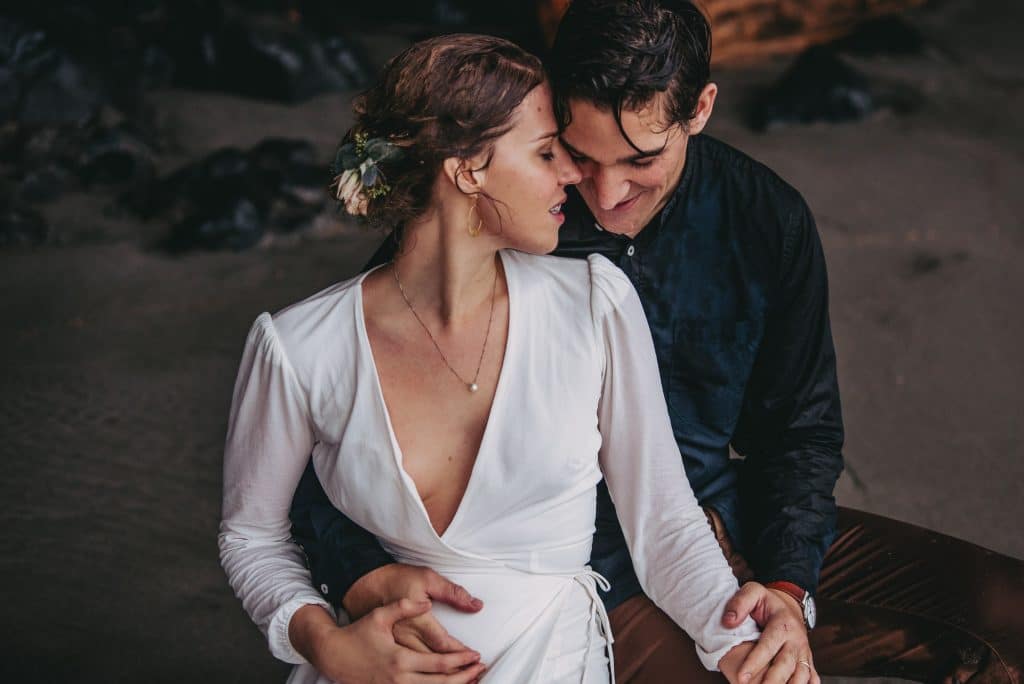 Should I book an All Inclusive Elopement Package?
Elopement packages can vary with what they include and the convenience they provide. That being said, it can make your planning and life a lot easier! For couples who want everything taken care of so the elopement day is stress free and relaxed, an elopement package is recommended. If you have a very unique plan in mind, let us know and we can advise if a package would be your best option.
Many elopement packages are venue specific, however we offer the ability to add a package on to your elopement photography package on southern Vancouver Island regardless of your venue.
Our package includes:
Photography (a variety of hourly options to choose from)
Planning & Coordination Package by a Wedding Planner (including vendor referrals, and being on site on the elopement day)
Officiant
Witnesses
Decor options (customizable – arch, chairs, etc.)
Bridal bouquet & boutonniere
Get in touch for a quote and more information! 
The Benefits of Eloping in Victoria BC or on Vancouver Island
Vancouver Island is one of the most beautiful and lush places in Canada (and North America). It boasts old growth forests, beaches, mountains & mountain views, and some of the most unique historical venues out there. It is an ideal location for couples to escape for an elopement or micro-wedding. But why?
Vancouver Island has some of the most unique terrain you'll find, and the variety of backdrops you can use within proximity to each other is unparalleled elsewhere in Canada. Our couples often want to have beach, forest and panoramic views and you can achieve all of these in the same day by eloping in Victoria BC or nearby.
Island life speaks for itself. Casual and laid back vibes, loads of wonderful restaurants and pubs, affordable accommodations and a relatively small population makes traveling to Vancouver Island a pleasant and easy experience. It's only 2 hours from Vancouver BC by ferry, less than an hour by float plane, and our small international airport is the easiest one I've ever flown in and out of. Flights occur daily from Seattle (pandemic willing), BC and elsewhere in Canada. It's a top tourist spot in the summer and warm enough to elope in winter if you're a little on the brave side (5-10 degrees Celcius).
Want inspiration for Elopement Locations on Vancouver Island and in Victoria BC? Click here! 
Looking for an elopement photographer on Vancouver Island or in Victoria BC? I'd love to chat about what you've dreamed up! Contact Me