Weddings at the HCP Gardens in Victoria, BC

Overview of HCP Gardens
(details may differ due to covid-19 policies – please confirm with venue)
The Gardens at the Horticultural Centre of the Pacific (HCP Gardens) is a non-profit outdoor garden and horticultural centre located in Greater Victoria on Vancouver Island in BC. The gardens boast a breathtaking outdoor wedding ceremony space overlooking greenery and a lake, as well as robust gardens for photography opportunities and guest exploration, and an on-site reception space that can seat up to 108 people including vendors and your wedding party. It is one of Victoria's most sought after outdoor wedding venues and it features a stone wall feature and wooden bridge which are popular for wedding party and couple's photos. 
When it comes to photography, I personally love working there because the gardens make it a one-stop-shop for the entire day, such as the ceremony, wedding party photos, family photos and couple's photos. You have options for your catering/vendors and everything you need is on site. The indoor space is bright and airy and makes for an affordable yet beautiful location for a full wedding day's events. 
My favourite weddings at HCP Gardens are mid-afternoon weddings with photos either before or immediately after the ceremony. Before the ceremony is ideal so guests won't find their way into the background of your photos, but the gardens do offer a lot for guests to explore while you take your photos. 
HCP Gardens is great for weddings of all sizes and types. It works well for intimate ceremonies and elopements with elopement rates, partial day and off-season discounts (see below), as well as full wedding shindigs with up to 100 or so people. It's affordable which makes it accessible for just about any budget. 
Location Info
HCP Gardens are located just off of the Pat Bay Highway near Royal Oak Exchange. It's accessible from West Saanich Road to the east, or Interurban Road to the west. There is parking on site, although a shuttle bus is recommended for a large number of guests. The location is in proximity to local hotels and a quick drive to downtown Victoria (approx 10-15 mins). It is secluded and makes you feel as if you've been transported to a lush rural area despite being located just on the edge of the city. 
Address: 505 Quayle Rd, Victoria, BC V9E 2J7
Link to Google maps: https://goo.gl/maps/mzxqbRUAWTeGCDL56

The closest hotels to HCP Gardens are:
Howard Johnson by Wyndham Victoria Elk Lake Hotel & Suites (approx 5 mins away) – 3km
Most downtown hotels are 10-12km from the venue
Venue Description
The HCP Gardens consists of a small shop and office, a separate wooden accented event building with windows on 3 sides, and a large garden space with a pavilion for outdoor ceremonies that includes a wooden arch. The gardens also offer a stone wall feature in the lower field area, and a wooden bridge overtop a small brook and pond. It provides a lot of options for ceremony locations for intimate weddings, and the pavilion itself can seat over 100 guests comfortably. The gardens are full of floral varieties and unique features.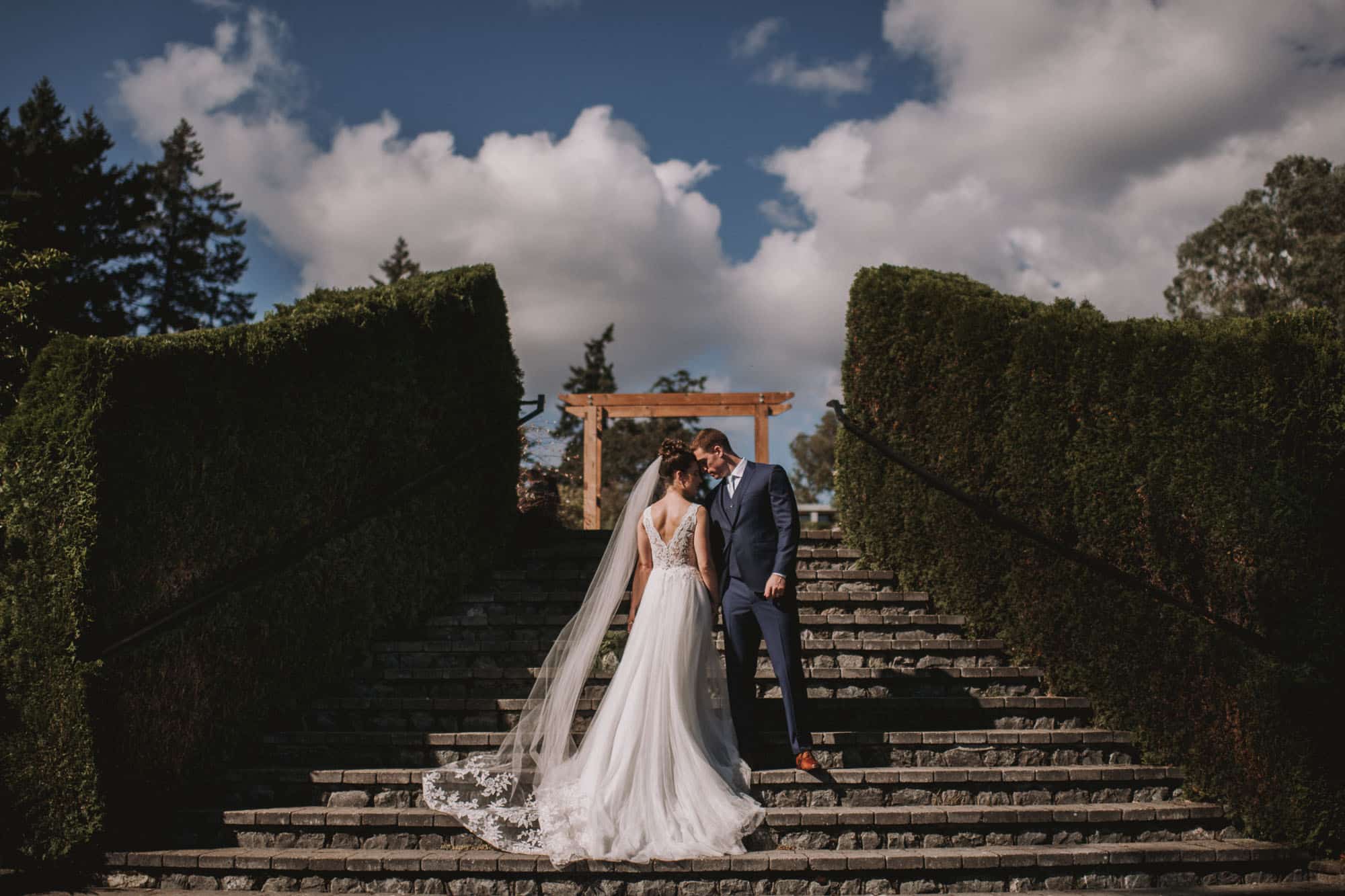 Pro Tips
Book the venue for all day to make the most of the space, as you get access at 9am. 

Doing photos before guests arrive makes for more time to enjoy their company after the ceremony and avoids having guests creep into your photos. 

Are you a partier? Rent a downtown space as an after-party location and shuttle your guests who want to continue celebrating since the curfew is around 10pm for music off/last call. 

Take advantage of HCP's included on site venue coordinator who is super organized and passionate about your day flowing seamlessly and without a hitch. 

Leave plenty of time to explore the gardens for your guests and your wedding party since there are many photo opportunities here. 

Bring umbrellas! These gardens are too pretty to miss if a light sprinkle of rain occurs during the ceremony. 
Brief History
The Gardens at HCP is part of the Horticulture Centre of the Pacific. This nonprofit society was formed by volunteers in 1979 with the mission of connecting people to plants. In addition to their weddings and special event space, they offer public demonstration gardens with daily admission, community education workshops, youth programs, volunteer opportunities, plant sales, public events, and more. The Pacific Horticulture College was founded in 1987, and offers a professional-level horticulture education. They are a registered non-profit organization. 
Wedding Information
Capacity:
Indoors: HCP's seated capacity is 96 guests (12 tables of 8) plus a head table for up to 12. 
For a standing cocktail reception, they can accommodate up to 120 but require that you hire a shuttle bus due to parking limitations.
Outdoors (ceremony):
HCP includes 110 chairs, but can fit 140 for a ceremony-only booking if you rent the additional 30 chairs. 
Floorplans: Available via PDF by contacting the venue.
Accessibility:
The front entrance of The Gardens at HCP has three different entrances: one gate with steps, one gate with a ramp, and one vehicle gate. 
The Couvelier Pavilion (reception space) is 100% wheelchair accessible with an accessible bathroom. Minimal fragrances are used in the bathrooms. Those who use wheelchairs may require extra time or assistance in the outdoor spaces due to the loose gravel and inclines, but there is a service road to the ceremony site to avoid this if necessary.
Booking:
Weddings occur year round, but depending on planned garden maintenance and renovations, outdoor ceremonies are sometimes limited to dates between Easter and Thanksgiving.
Off season discounts available for bookings Oct-Apr, or daytime only/evening only bookings.
Deposit: 50% deposit + a signed agreement. 
Books dates approx 6-14 months in advance, last minute bookings possible
Wedding Season: Weddings occur year round, but depending on planned garden maintenance and renovations, outdoor ceremonies are sometimes limited to dates between Easter and Thanksgiving.
Contact:
Link: https://hcp.ca/
Phone: (250) 479-6162
Permits/Insurance/Restrictions 
Insurance:
A Special Event Permit is required before any alcohol can be opened onsite.

Event insurance is strongly recommended but not strictly required.
Restrictions:
Drones are not permitted while the gardens are open to the public, but may be used after 5:00pm (4:00pm Nov-Feb). 

You are allowed access for setup at 9:00am on the day of your booking

Last call at 9:45pm, last song at 9:55pm, bar closed and music off by 10:00pm sharp. This is earlier than other venues, but HCP has a delicate relationship with their close residential neighbours.

All vendors and guests off-site by 11pm
Weather Considerations 
For ceremonies in the garden, renting a tent for over the ceremony site is recommended if rain is probable, but many couples bring umbrellas for their guests just in case. 
In the event of no tent and no umbrellas, the ceremony may be moved inside the Pavilion with guests seated at their dinner tables for the ceremony.
Recent Weddings at HCP Gardens
https://tulleandtweedphotography.com/hcp-fireside-restaurant-wedding-erin-steve/