Weddings at Sea Cider in Victoria, BC
Overview of Sea Cider
(details may differ due to covid-19 policies – please confirm with venue)
Sea Cider is a rustic cider house venue on the Saanich Peninsula on Vancouver Island that offers two wedding ceremony locations: a lush forest ceremony setting and a ciderhouse setting overlooking Haro Strait and the Gulf Islands and San Juan Islands. It caters to small to medium sized (<150 person) weddings. I photograph here on average 3-5 times per wedding season.
On a clear day, the venue offers spectacular views of Mount Baker in Washington State. The venue crafts its own delicious cider, as well as has its own orchard on site for additional photo opportunities. Sea Cider offers a stunning backdrop for weddings and gives guests a farmhouse feel while being in close proximity to both the airport and Victoria.
When it comes to photography, I personally love working there because it allows couples to have photos on site prior to their ceremony, in the orchard, lush forest and around the property. It is also in great proximity to beaches and hilltop photo locations.
Sea Cider currently specializes exclusively in afternoon weddings. Being an east facing venue, this offers beautiful lighting for ceremonies, as the sun is generally behind the venue and indirect. This is flattering for portraits and makes the ceremony pleasant for guests and the couple alike (meaning no blinding sun/excessive heat!).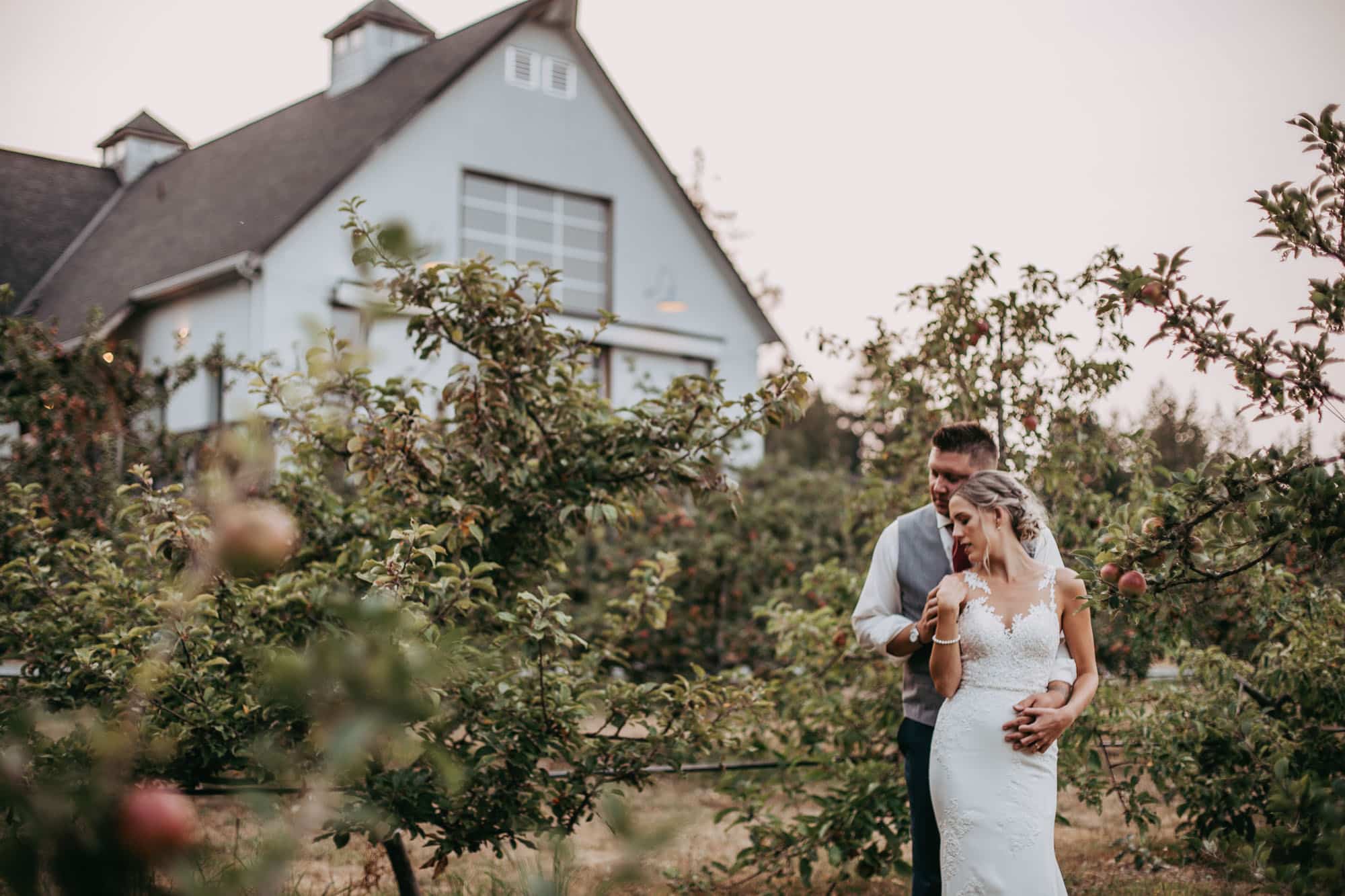 Location Info
Located in Central Saanich on the Saanich Peninsula near the Patricia Bay Highway and Mt. Newton Cross Rd. It is approximately 6km (10 mins) from the Victoria International Airport, 6km (10 mins) from Sidney, BC and 22km from Downtown Victoria (20-30 mins). Sea cider is generally booked by couples for both wedding ceremonies and receptions at the same location and the transition from forest ceremonies to cider house pavilion receptions is seamless.
Address:
2487 Mt St Michael Rd
Saanichton, BC V8M 1T7
Link to google maps: https://goo.gl/maps/mGccBUYdKqSgWqN49
Closeby Hotels:
Quality Inn – Waddling Dog – Central Saanich, BC – 4 mins away
Motel 6 Victoria Airport (budget) – Saanichton, BC – 3 mins away
Sidney Pier Resort – Sidney BC – 10 mins away
Brentwood Bay Resort – Brentwood Bay, BC – 12 mins away
Venue Description
Sea Cider offers two unique spaces for wedding ceremonies and a bright and unique reception space inside their new event ciderhouse. The forest space allows guests and the wedding couple to walk through a winding path to their ceremony underneath tall and lush forest. Many couples choose to have an arch to frame them during their ceremony, and wooden benches are available for guest seating. The natural wood details allow you to customize your colour palette and make the forest space your own to suit your unique wedding vision and colour palette. You also have the opportunity to get married inside the cider house pavilion, which has a cozy and airy feel while remaining quite rustic (and sheltering you from the elements). It also doubles as a backup ceremony location in the case of rain or poor weather. It also allows for more off-season wedding dates than other venues.
Guests always love the opportunity to taste their unique blends of cider, to celebrate overlooking the ocean and orchard and to explore the grounds. Receptions are warm with lots of beautiful ambient lighting and it's a great space to make lasting memories during your speeches and evening celebrations.
My favourite part of Sea Cider is how seamless everything runs at their venue. It makes the day stress free and allows couples to really just unwind and enjoy their day. You can do all of your photos on site and alternate locations are close by for easy access without spending a ton of time traveling from place to place. We highly recommend doing a first look for your wedding at Sea Cider as ceremonies tend to be after 4pm and timing can be tight for couples'/wedding party photos for those who prefer not to see each other before the ceremony. Sneaking out at sunset is always an option though and the light is gorgeous about 45 mins prior to sunset as the venue sits on a hill among the trees. Wrought iron detailing can be found throughout the property. The cider house pavilion also makes a unique backdrop for portraits, especially when it glows in the background as the daylight disappears. The venue also offers use of their harvest tables and galvanized metal chairs.
Brief History
Sea Cider opened in 2007 as an organic farm and orchard. They now specialize in local cider varieties, sourcing produce for their ciders from local farms on Vancouver Island. They cater to meetings, weddings and events and operate a tasting room year round.
Pro Tips
Plan for a first-look to maximize wedding party portrait timing. If you are dead set on a first-look, make sure you leave time for sunset/dusk photos to make up the time.
Having a company or family/friend set up your decor while you get ready or take portraits before the ceremony/reception helps with the tight timelines (note- this timeline may be easier with the new cider house pavilion but worth considering as same day setup is usually required).
The venue closes early due to residential noise restrictions, so it's best for a group that plans to retire early in the evening, or for those who are okay moving the party elsewhere if they plan to keep going after 11/12pm.
Sneak away for a private moment in the forest or orchard to slow the day down and take a few quick candid photos together.
Sea Cider is great for Sparkler Exits as it's pretty dark without a lot of city light in the area.
You can opt for an industrial/modern meets natural wood feel, or go full on rustic. Candlelight or string lighting is always gorgeous.
Wedding Information
Capacity:
12-150 people depending on what options chosen
Curfew:
11pm
Accessibility: The Ciderhouse Pavillion and Cider House are wheelchair accessible. The forest is accessible but unpaved so may pose issues for those with mobility issues or difficulty navigating natural terrain.
Booking Info:
Non Refundable 20% initial payment with additional payment terms.
Books dates approx 1-1.5 years in advance
https://www.seacider.ca/events/weddings/
Phone: 250.544.4824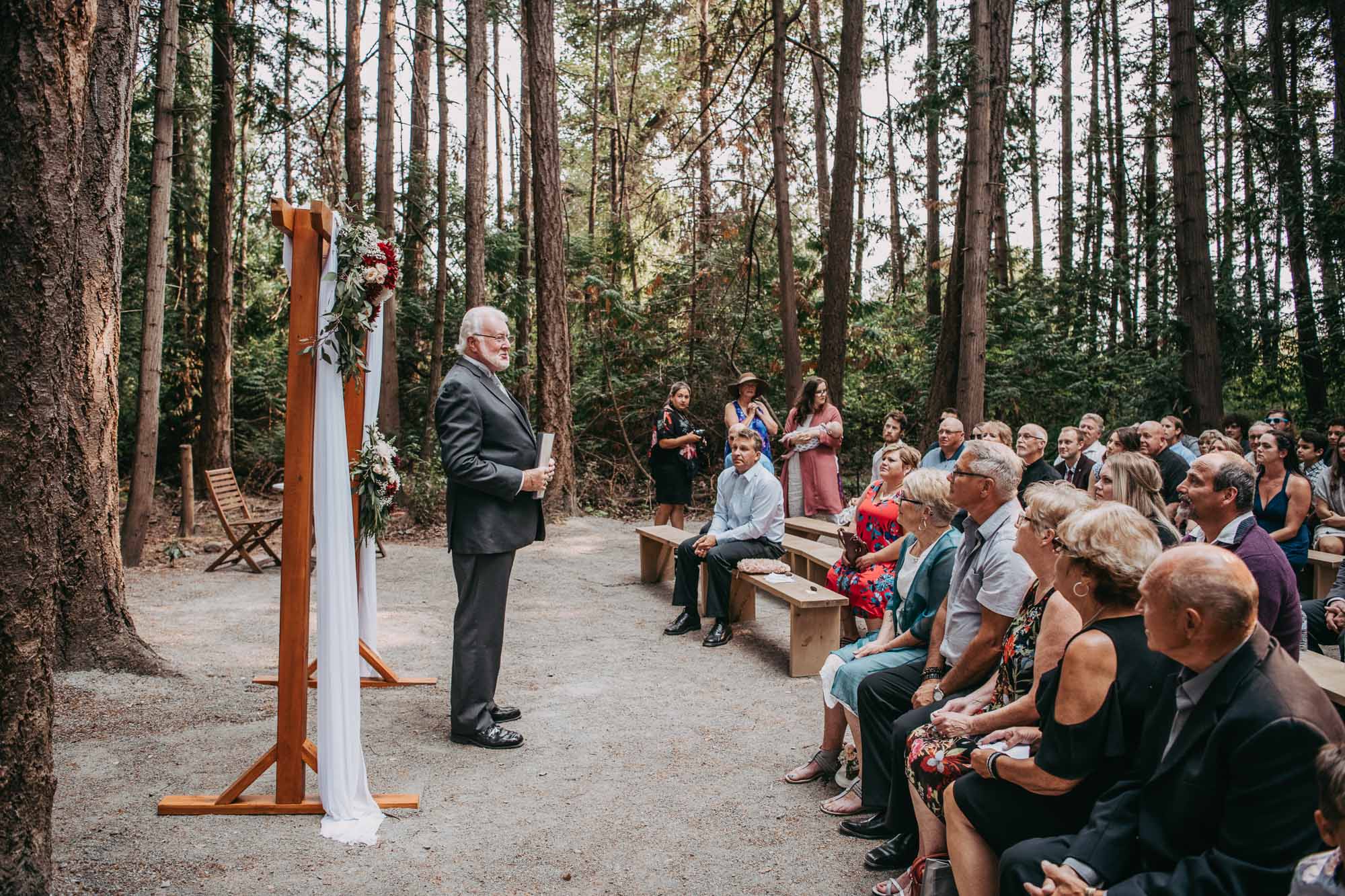 Permits/Insurance/Restrictions
Restrictions:
Curfew is 11pm

Music must remain indoors at all times (with the exception of the ceremony in the forest at a reasonable volume)

Catering only from approved vendor list

Alcohol included (cider at least) – limitation on where alcohol can be carried on property.
Weather Considerations
The Cider House Pavilion offers a sheltered ceremony option that is still airy and full of character if the weather is uncooperative.
Recent Weddings at Sea Cider
Danielle and Bryce: https://tulleandtweedphotography.com/sea-cider-wedding-victoria-wedding-photographers-bryce-danielle/