Hatley Castle Weddings | Victoria BC

Overview of Hatley Castle
(details may differ due to covid-19 policies – please confirm with venue)
Hatley Castle is a large castle-like venue situated just outside Victoria, BC with views of the Juan de Fuca Strait and Olympic Mountains giving it fantastic views all year round.
It boasts extensive gardens for photo options, historical architecture and is the perfect romantic backdrop for your fairytale wedding. Hatley provides indoor/outdoor options which is great as it gives you many choices of backdrops/configurations when planning your wedding and also offers backup space in the case of moody weather.
When it comes to photography, I personally love working there because of the clean and maintained gardens, it's rich architecture (wood, stone) and it's incredible staff who offer a 5 star service time and time again, making the wedding day run efficiently and smoothly.
My favourite weddings at Hatley are afternoon weddings, as the sun sets early at this location, being nestled in the forest and on a hillside. This gives an opportunity for both daylight and dusk portraits, and the ability to lounge on the deck as the light dwindles is a great feature for guests to mingle and enjoy the views before your party begins.
Hatley Castle is great for weddings of all sizes and types, including garden ceremonies, indoor ceremonies and receptions, and large gatherings of up to 300 people outdoors and 250 indoors. It also allows use of the 565 acre landscaped grounds for photos and guest exploration.
Location Info
Located in Colwood which is 13km or 25 mins from Downtown Victoria (35 mins from the airport on a good day, 1 hr on a busy day).
Hatley Castle is most commonly booked for Ceremonies, and also offers receptions and cocktail hour on site.
The area is great because of it's incredible views, wildlife (deer and geese roam the grounds), and proximity to all areas of southern Vancouver Island. This means guests have many options when coming from out of town and booking accommodations, and allows preparations or after-party events to take place elsewhere without the need to travel far.
Address:
2005 Sooke Road
Victoria, BC V9B
Link to google maps: https://goo.gl/maps/hdGVHc2K7my6DzsM8
The closest hotels to Hatley are:
Holiday Inn Express & Suites Victoria – Colwood – 7 mins away
Four Points by Sheraton Victoria Gateway – 13 mins away
Venue Description
The venue is large and impressive with grey brickwork outside, and rich dark wooden features and finishes inside, with the exception of the Drawing Room which is painted in a clean off-white, which is great for photographers as it doesn't give a colour cast, especially when photographing with flash at night.
Inside, there is also a large entryway foyer with a fireplace feature and wrap-around staircase which is a great location for your first dance. Guests (and photographers) can view your dance while standing on the stairs on either side of the entry. This gives a unique perspective to your dancing and party photos.
My absolute favourite feature at Hatley is the beautiful glass work throughout the building. I try to utilize it in my photos whenever the timeline permits.
Pro Tips
Book the venue for all day to make the most of the space and to avoid a mid-day curfew or setup time
Plan time about an hour before sunset on your wedding date for some outdoor sunset/dusk pictures in the gardens and with the castle as a backdrop
Bride Preparations can be done elsewhere, but the final prep such as putting the dress/suit on, shoes, accessories can be done in the Bridal suite for the best photos
Host your first dance on the outdoor terrace near sunset (hanging lights recommended) for unique first dance photos
If you want a later party, consider shifting your wedding plans to downtown Victoria after 11 or midnight (Noise curfew is 11pm for loud music, and 12am for all music)
Brief History
The castle, built in 1908, has been home to the Royal Roads Military College and it and the grounds now house Royal Roads University administration. It has been used in many films and television shows. Some notable productions are:
Smallville
X-men Series
MacGyver Series
Descendents movies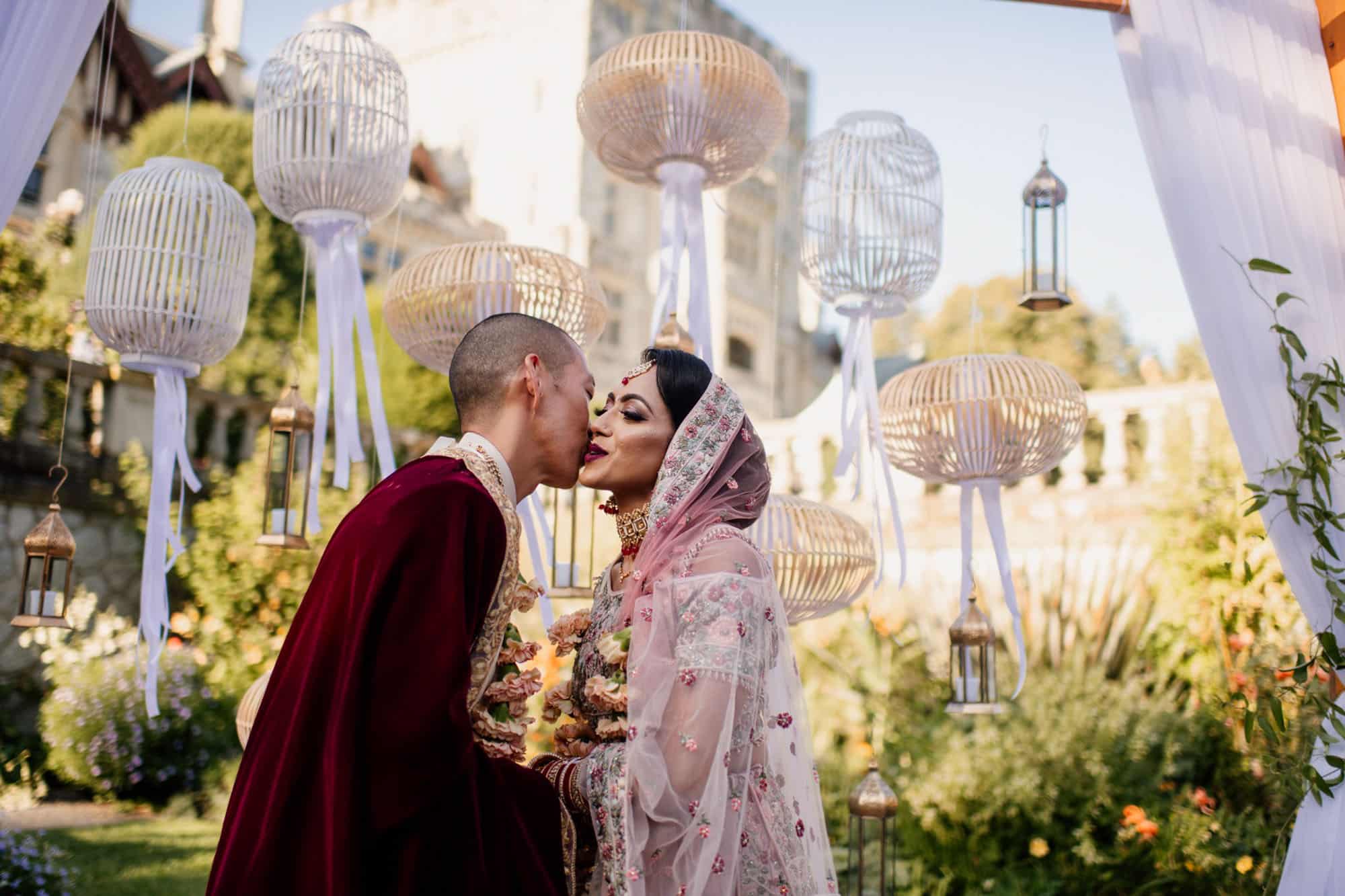 Wedding Information
Capacity
Drawing Room: 100 people
Castle Main Level: 200 people
Castle Terrace (tented): 300 people
Terrace Lawn: 300 people
Quarterdeck: 250 people
Floorplans: http://hatleypark.ca/sites/default/files/quarterdeck_floorplan.pdf and http://hatleypark.ca/sites/default/files/hatley_castle_floorplan.pdf
Accessibility: All buildings and venues are wheelchair accessible.
Booking:
Non Refundable 50% deposit with additional payment terms.
Books dates approx 2 years in advance
Website: http://hatleypark.ca/hatley-park-weddings
Phone: 250-391-2666
Toll-free: 1-866-241-0674
Permits/Insurance/Restrictions
Insurance:
2 million liability insurance with Royal Roads University named under insured.
Restrictions:
Drones are not allowed
Photography can occur anytime during booking reservation times
Throwing of flower petals, confetti and rice are not permitted. Bubbles are an acceptable alternative (outdoors).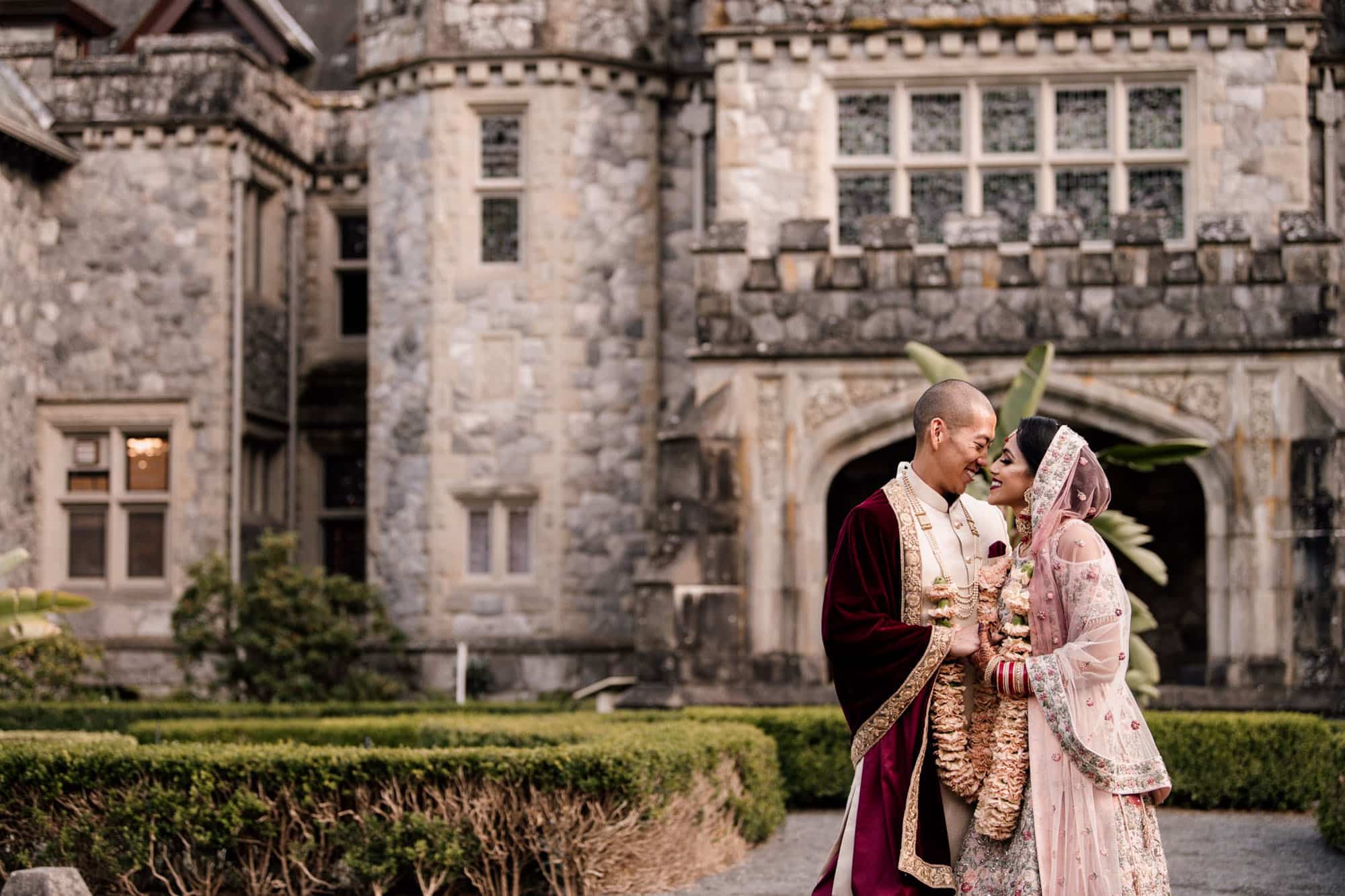 Weather Considerations
Hatley offers backup plans for rain. If you are having a garden ceremony, it can be moved to the Italian Garden loggia for standing room only, and if you are having a classic ceremony or larger wedding, the ceremony can take place in the grand foyer with a small amount of seating and standing room on the stairs. You can also consider renting a tent as a backup if it looks like it might rain on your wedding day.
For portraits, the interior of Hatley offers a myriad of options during your specific rental timeframe as it has many areas with natural light, which I try to utilize whenever possible. Under the loggia also works well for photographs during rain.
Recent Weddings at Hatley Castle
Ashlyn and Darren: https://tulleandtweedphotography.com/hatley-castle-wedding-darren-ashlyn-victoria-photographers/
Get in touch to inquire about your Hatley Castle wedding photography!