I decided to put together a "What's in My Bag" post, since we hadn't done one in a while and lots of our photography gear has been upgraded. It took me over 8 years to finalize my perfect kit for destination wedding photography and all of these items have a very specific purpose. Here is the what and why of my camera bag (and links to each item – I don't make any money off these links)! Stay tuned for part 2 of this post – What's in My Bag 2 – Weddings & Portraits.
Destination Weddings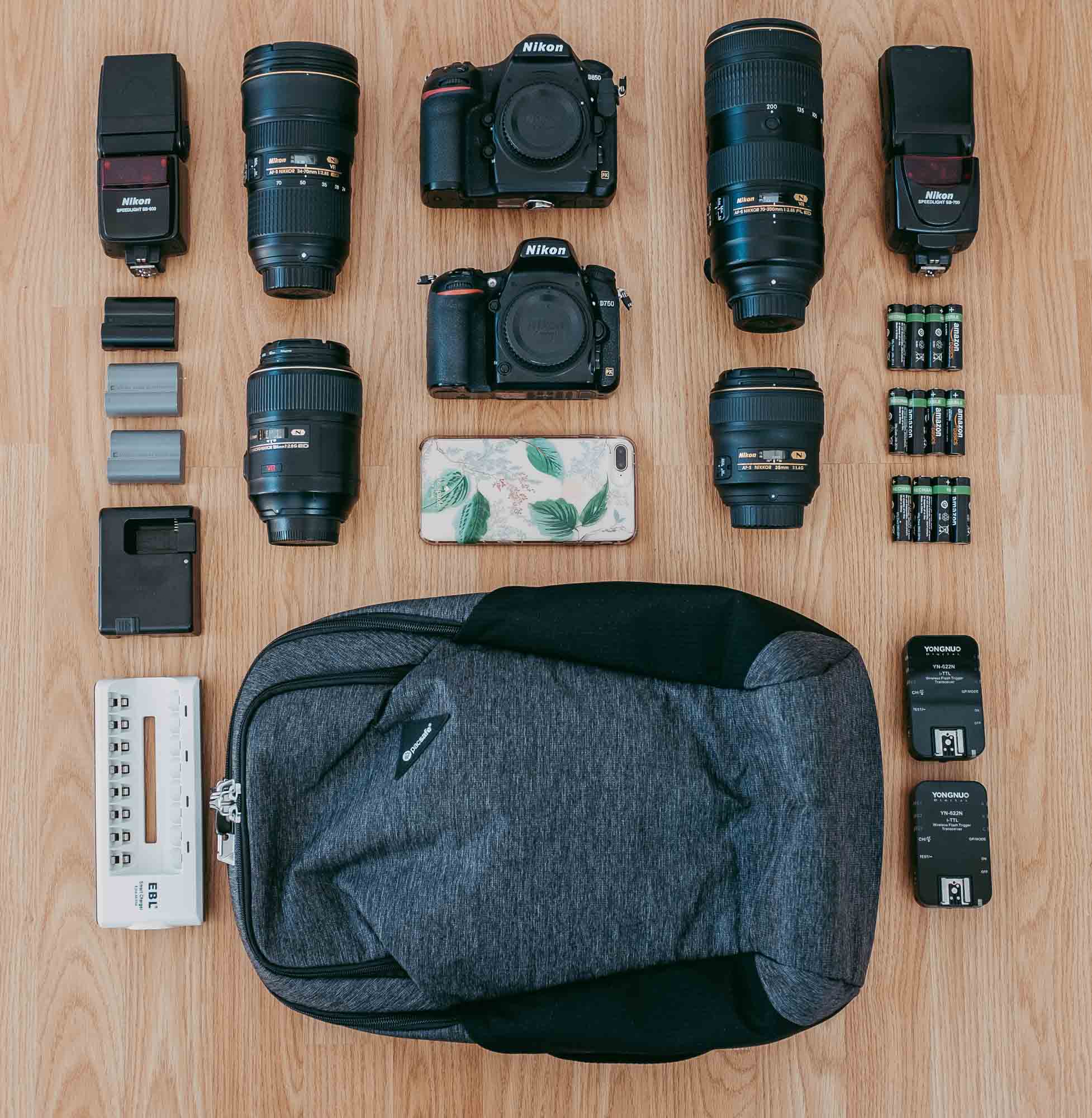 The Bag:
Pacsafe Vibe 20L
The Why:
This bag is light at just under 1kg, but for that weight it packs major security features. Slash resistant fabric, locking zippers, a removal strap for wrapping around stationary objects when it isn't being worn. It's the perfect bag that balances weight and functionality, while providing major peace of mind when travelling to pickpocket happy cities. I amp it up by packing my gear in smaller lightly padded pouches, cubes or even clothing when space is really tight.
The Why: 
This full-frame camera body is a workhorse, meaning it's super fast and super reliable. It is a bit heavy, but it's worth the added weight for everything it can do. It also has built in video stabilization, which I love when doing travel video or highlight videos for clients. It's also wonderful in low light. (weighs 915g). As a pro body, it is coated for weather meaning I can shoot in rain if needed (to an extent).
The Why:
This body is usually my backup to my two D850s, however for travel, every single ounce of weight matters for me as many airlines have strict carry on baggage policies. This camera is also a fabulous body, great in low light situations and also takes video (albeit without stabilization). (weighs 750g). Similar to the D850, it is coated for weather.
Nikon Nikkor 70-200mm f2.8 G ED VRII Lens
The Why:
This lens is massive, heavy and a pain in the rear to carry. BUT, it's also a super reliable workhorse lens that creates a really beautiful professional look. It's bokeh is beautiful and it's super quick to focus. It allows me to photograph portraits without any distortion of faces, and is also coated for weather. This is also a great lens for travel, as it lets you zoom in really close to your subject from afar and has really beautiful compression. I often use it for photographing animals/birds as well. It also has second level Vibration Reduction for video. When combined with the D850 it's video magic. (1540g)
Nikon Nikkor 24-70mm f2.8 E ED VR Lens
The Why:
Another beast of a lens. It is similar to the 70-200mm in features but differs in that it is a wider lens. It is great for more environmental photos, landscapes, and portraits of multiple people. It's the near perfect everyday lens. It also has Vibration Reduction for videography. (1070g)
Nikon Nikkor 105mm f2.8 Micro (Macro) Lens
The Why:
This lens travels with me, but doesn't always get a ton of use – but when it does, it's a lens that gives me results I can't get with the others. It allows super close macro focus (Nikon calls it Micro), at 1ft. As a telephoto lens (super up close from far away), it allows you to get beautiful detail shots of rings, flowers, bugs, or anything else you like getting minute details of. The reason I bring it, is that is also doubles as a backup to my 70-200mm lens if anything were to happen (dropping for example – knock on wood). (This lens weighs 720g, but it also has Vibration Reduction). The downside of this lens is that it stops down as you zoom closer, meaning the aperture shifts from 2.8 to a tighter aperture depending on your focus distance.
The Why:
This lens is light, fast (1.4 aperture) meaning more lens blur in the background, and reliable. It's considered a semi-wide lens. I don't use it a ton, but when I do I am super happy with the results. It's also a good walkaround lens, but doesn't zoom in or out (a prime lens), so it limits what I can photograph when I am travelling. I bring it in case I have lots of room for shooting to get wider shots, or if I want to incorporate more of the scene for portraits. It is a great backup to the 24-70mm lens, or vice versa as they can both shoot at the 35mm focal length. It's also great if I have very little light to work with, as the 1.4 aperture allows much more light in than the 24-70mm at f2.8. (weighs 600g)
Nikon SB600 + SB 700 Speedlight Flashes
The Why:
Flashes are a must have for any event photographer or wedding photographer who is shooting in dark environments (reception rooms, outdoors with candlelight or string lights). I bring along my two lightest flashes when I shoot destination weddings, as they cut down on space and baggage weight. They are pretty powerful despite their size and do the job for how much flash I use. They may go on top of my camera, or positioned off-camera for the first dance. I use them with yongnuo transceivers to communicate for off-camera flash.
Accessories
Camera Battery: Whenever I shoot, I bring an extra battery charger for my camera battery (Nikon brand, EN-EL15a's if possible). I usually have one in each body, and 2-3 extras depending on my bag weight.
Flash Batteries: I will bring along rechargeable AAs if I have the space, along with a quick charger that can charge 8 batteries at a time. If weight or space is tight, I leave them at home and pick up disposable AA batteries at my destination.
Lens Cloth: For wiping my lens, sometimes clothing does the trick in a pinch.
Memory Cards: I bring lots of memory cards just in case any fail, or in case I get snaphappy at a particular shoot or destination.
External Hard Drive: I bring my trusty SanDisk 500GB external drive which is super light weight and small. This goes regardless of where I am travelling. It also hooks to a lanyard if you prefer to take it on daily outings if leaving your memory cards in your room. I also back up to the cloud when possible.
Phone: iPhone 8Plus. This is generally with me as it's so easy to do behind the scenes videos, photo or just snap a few photos here and there when the camera is too cumbersome. It also holds my shooting schedule, client questionnaire, contacts and lets me keep in touch with my clients. I also have a trusty app which tells me where and when the sun sets every day, so it's a huge help for golden or blue hour photos and location planning.