Vendor Feature: Mr. Booth | Victoria, BC Wedding Photo Booth
Business Name: Mr Booth Activation
Owner Name: Greg Buck
Specialization: Photo Booth
Website: www.mrboothvictoria.com
Email: greg@mrboothvictoria.com
Phone number: 780-660-0610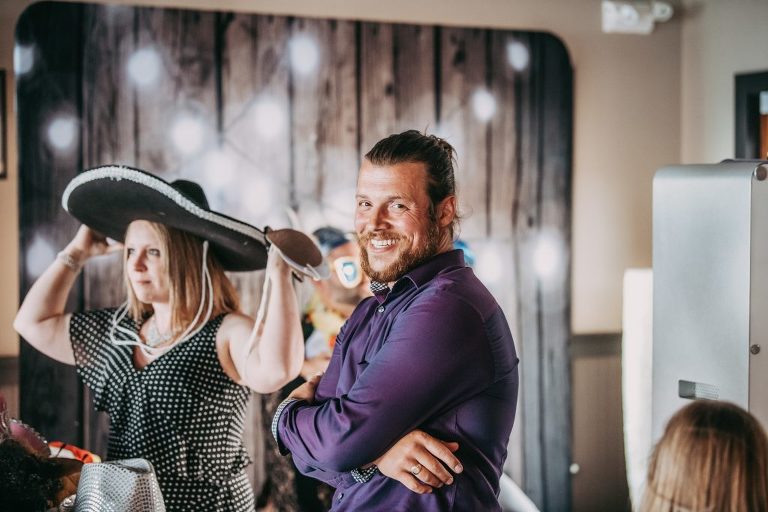 How long have you been creating running your business?
Mr. Booth has been up and running for almost a year. We will be celebrating our one-year anniversary at the Bard and Banker's staff party, as they were our first and rowdiest clients so far!

How did you get started?
I was in Brazil, kite surfing, and met another kite surfer who had one of the biggest photo booth activation companies in Montreal. I didn't think much of it at the time; I added him as a friend on Facebook and continued on with life. Over the year I kept seeing posts from him at fun events (he was having a blast!) and I thought to myself, "That's the type of business I want to own." After a few months interning with JF Boyd at LeBooth in Montreal, I brought his years of experience to Victoria and opened up shop.

How many weddings do you do a year?
This year we have booked 11 weddings. My goal was to do 20 events in 12 months. We have now blown that goal out of the water!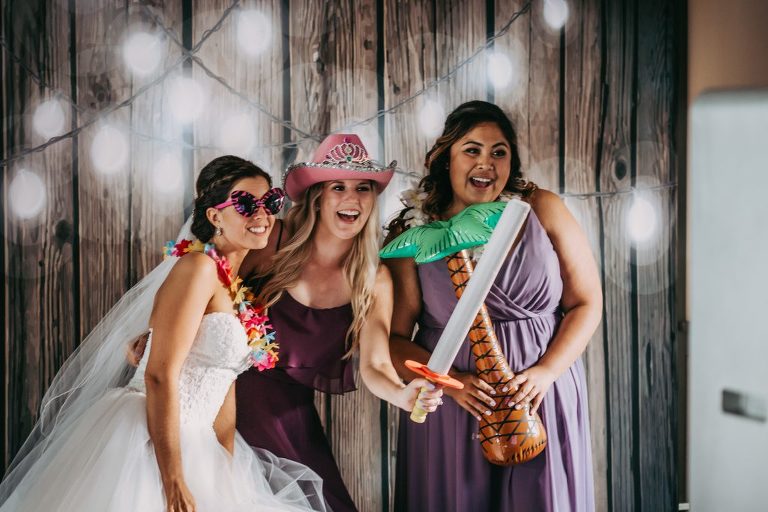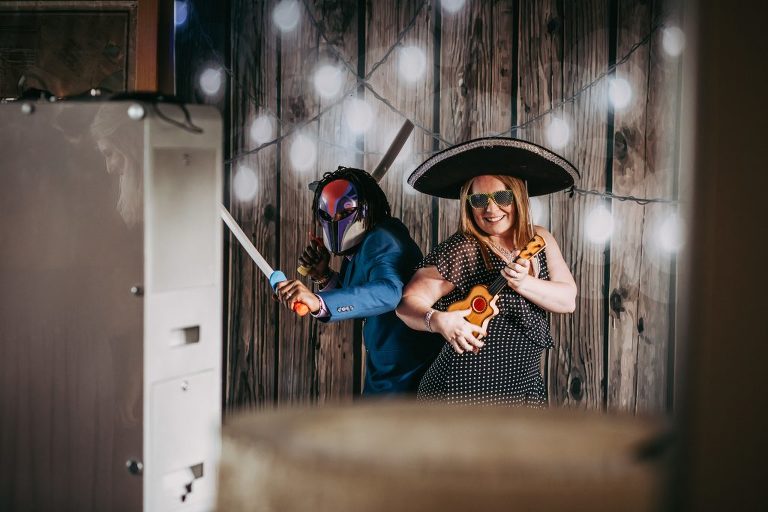 What is the biggest thing your couples rave about after their weddings?
Most people think that photo booths are all about the photos when, in reality, we are the entertainment. The photo booth is there to remind you of the fun you had! People also love the props; the lobster and WWF wrestling belt seem to be the favourites. Couples are also always surprised at how clean the set up is. The booth is new and flashes cool colours, and we always have a custom screen and red carpet for every event!

What do you do in advance of the wedding day to build a relationship with your clients?
I try to make sure we have everything prepped and ready months in advance of the wedding so that couples never have any last minute worries or changes. Although, we did do a wedding on 15 hours notice! It went perfectly.

Is there a trend you have noticed with photo booths?
We keep up to date with all of the trends by attending photo booth trade shows and by keeping current though online groups. Mr. Booth has just purchased a new top-of-the-line print-less photo booth that will be arriving in a month. Another trend has been fancy backdrops. Out with the cheesy shower curtains and in with professional backgrounds!

What would you say are the most popular photo booth themes you have had requested this year?
Sparkles, Pirate, Shanghai, Gatsby, Casino…we even did a pet photo booth this year. Each event seems to have its individual theme but Sparkle and Glam see to be the most common.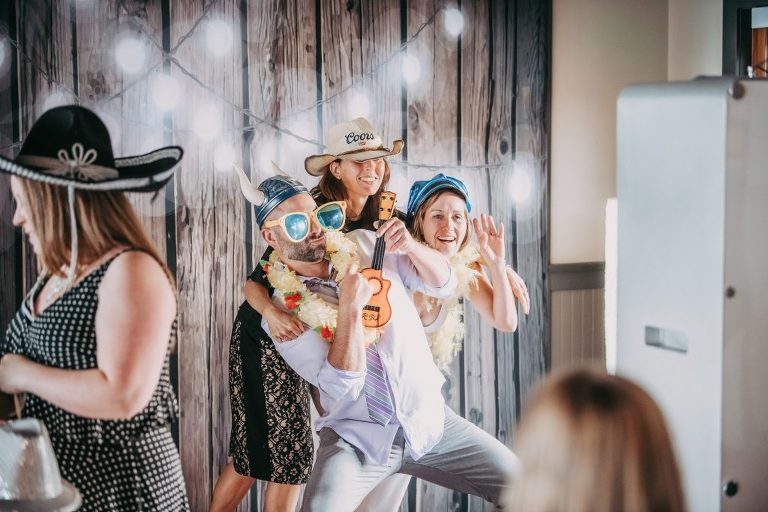 What are some of your favourite types of photo booth themes/props for weddings that may not always get chosen?
To be honest I overdo the props every time. My favourite theme/backdrop that I have only used once is the white backdrop. It makes for some amazing pictures! People are always amazed at how they look with the proper lighting and a white backdrop to make them pop.

What types of photo booth props are guaranteed to be crowd pleasers?
Oversized bottles, the crab and lobster, horse head, ukulele, WWF belt, gold hat, and trophy.

What is your favourite thing about your job?
I like the graphics design work in Photoshop. It's a skill I have developed over the year, and that I'm continuing to improve. I also love when a client has a creative idea and allows me to work with them to develop the idea!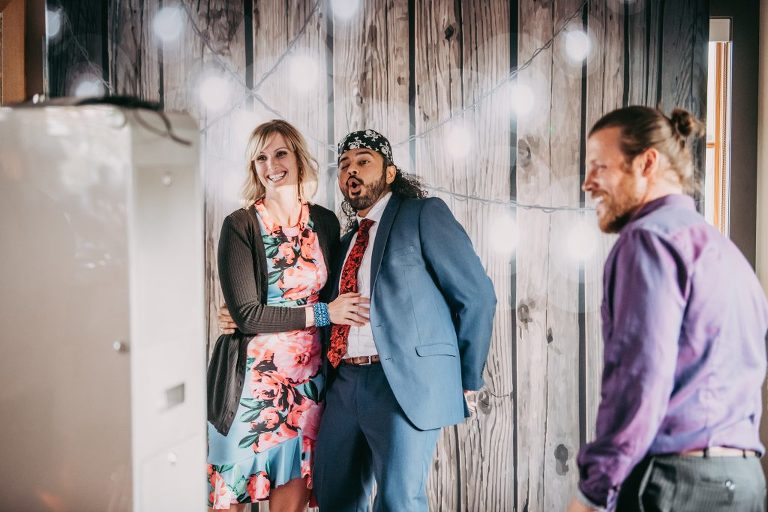 Do you have any tips for potential couples who are starting their wedding planning?
When you are booking, your goal is to get the perfect photo booth. But not only that, you want it to work and not breakdown. Here are some questions you need to ask the photo booth company you are considering:
Do you bring double of everything in case something fails?
Does the photo time include set up and take down?
Can I share the images immediately or do I have to wait for the next day?
Do you have insurance? (This is extremely important!)
For the most part you are going to get what pay for. If you find a deal for $300… you're going to get an iPhone on a stand. Check out Instagram feeds and galleries to see what each company's products are all about.

What sets you apart from your competition?
Victoria has some great photo booth companies. What sets me apart is nearly a decade of experience. I have learned what works and what doesn't through learning from the best. Clients also like that I included everything in the price! I do this because I want Mr. Booth to give clients the best photo booth experience possible. Props, social sharing, and prints are all included! Our booths are top of the line and we spare no expenses on them.

Any other thoughts you would like to add?
Mr. Booth has a lot of booking next summer already. If you are planning a wedding, please don't wait to book!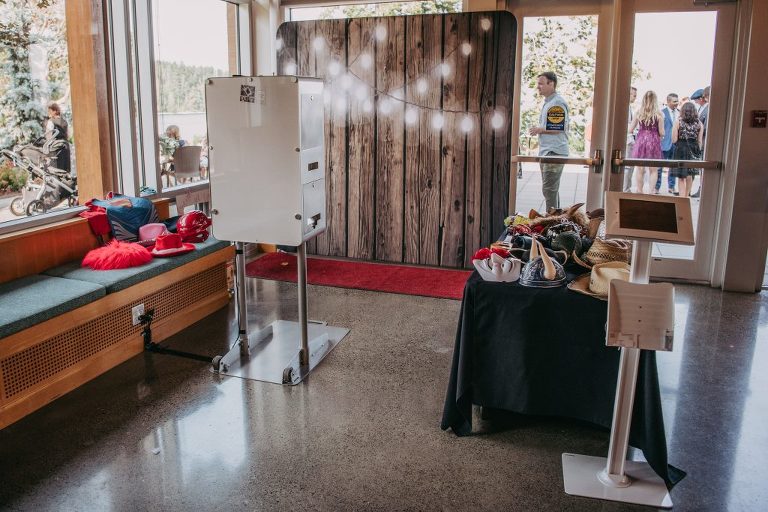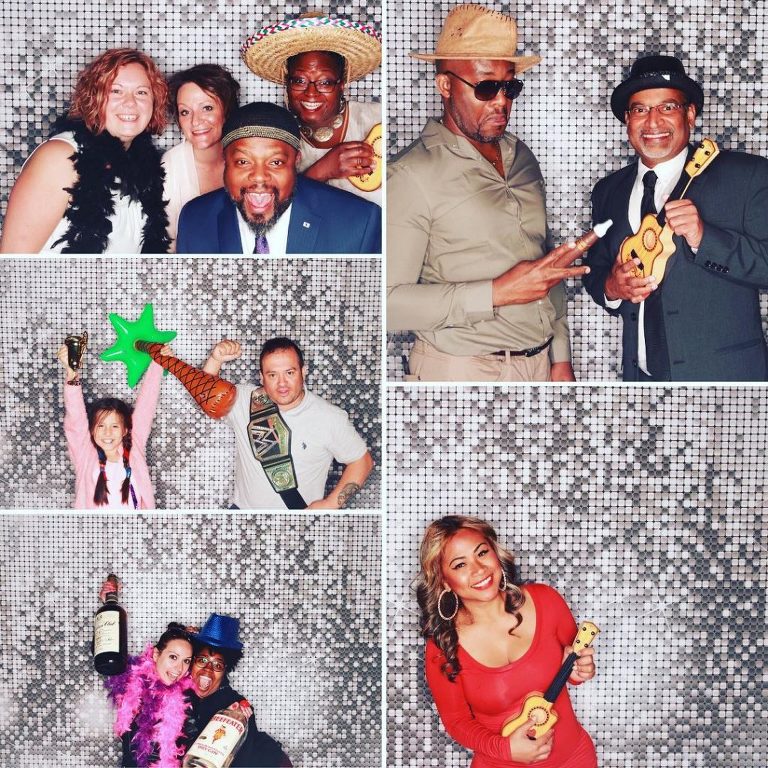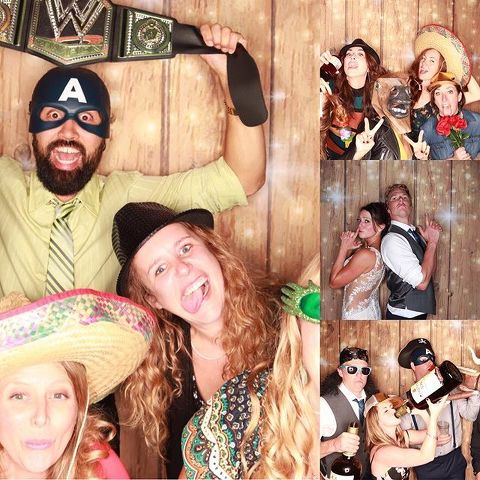 Photography: Tulle & Tweed Photography & Supplied by Greg Buck