Vendor Feature: DJ Chris Poynter | Victoria BC Wedding DJ
Business Name: DJ Chris Poynter
Owner Name: Christopher Poynter
Specialization: Mobile Event DJ
Website: www.chrispoynter.ca
Facebook/Instagram: @djchrispoynter
Email: info@chrispoynter.ca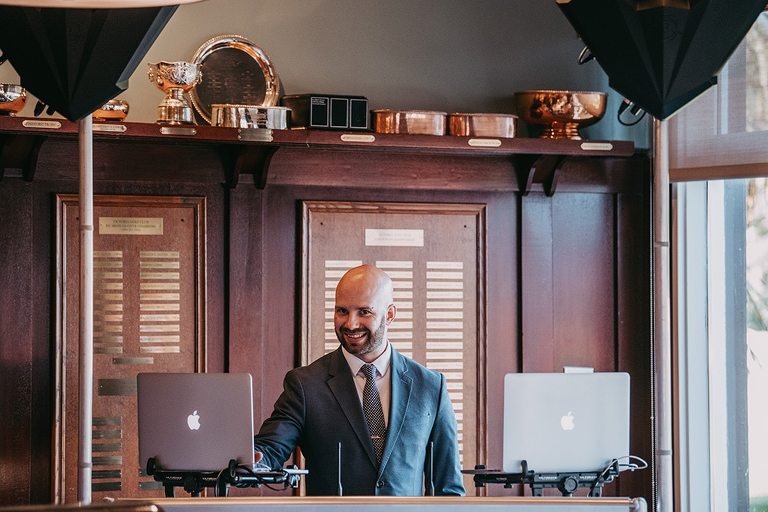 How long have you been DJing?
I got into it somewhere around 2001 (I was 16 years old)
How did you get started?
I was volunteering as a counsellor-in-training at an overnight summer camp when I was a teenager, and we had weekly Thursday night dances for the kids. I was super interested in music and technology, so I went out and bought the cheapest DJ mixer from Radio Shack and asked our camp director if I could try DJing one of the dances. It was a pretty big success, because prior to me doing it, everyone had to wait between songs while the "DJ" changed CDs. Well… I had two Discmans plugged into my mixer which enabled me to fade between the songs!
From there I bought some turntables and a proper PA system, and moved onto doing local high school dances, and in my mid-twenties I sold the turntables and bought my first software  control surface combo, i.e. DJ computer interface. I have now been DJing for about 17 years, and doing weddings professionally for 8 years.
How many weddings do you do a year?
I usually DJ 30-40 weddings, and 10-20 other events throughout the year. There's a bit of a limit on how many gigs I can actually take on, because I am also a full time elementary school music teacher.
What is the biggest thing your couples rave about after their weddings?
I'm not going to BS my way through this: If you want to know what past clients think of me, go look me up on Google or Facebook where you can find tons of reviews! 🙂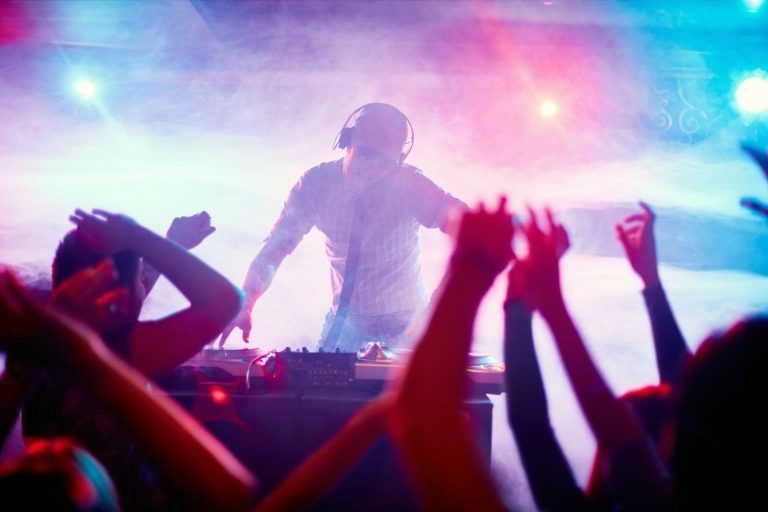 What do you do in advance of the wedding day to build a relationship with your clients?
I stalk them on Facebook. JUST KIDDING!! It completely depends on the client.
Some people want to throw their money at me, tell me their favourite songs, and say "see you next summer." I'm cool with that, because I totally understand that you have a lot of vendors to deal with. However, some people want to take it slow… they want to get to know me before they commit to a booking… and they want to constantly check-in with me in the months leading up to their wedding. I'm cool with that too, because I understand that planning a wedding can be a super stressful job!
Making positive connections with people comes naturally to me. I've gone out to dinner with clients, taken their ten favourite songs and made them a demo-mix, and helped them choose a venue. I'm a speed-demon with my email replies (much to the chagrin of my wife) and will drop almost anything to answer a phone call from a client with a question (again… much to the chagrin of my wife).
Is there a trend you have noticed with wedding music?
People typically want a good mix of classics and newer songs. This has not changed since I started DJing weddings. Obviously, some clients have very specific or unique needs, but in general, my clients are looking for a super wide range of music that will please everyone. And of course, every year there is "that song."
What would you say are the most popular songs you have had requested for the following:
1. Bride Walking Down Aisle
The Piano Guys – A Thousand Years
2. Recessional
No trend in this one. Every wedding is completely different!
3. Bridal Party Entrance
Hall & Oates – You Make My Dreams Come True
Justin Timberlake – Can't Stop The Feeling
DJ Khaled – All I Do Is Win
4. First Dance
I literally just went through more than 100 wedding playlists from the last few years and most of them are totally unique choices. Having said that, a lot of people like to use "You Are The Best Thing" by Ray LaMontagne.
5. Parent Dances
Louis Armstrong – What a Wonderful World (both parents)
Tim McGraw – My Little Girl (father/daughter)
The Beatles – In My Life (mother/son)
What are some of your favourite songs for weddings that may not always get chosen?
While I truly do love most genres of music, I wish more people would get me to play house music at their weddings!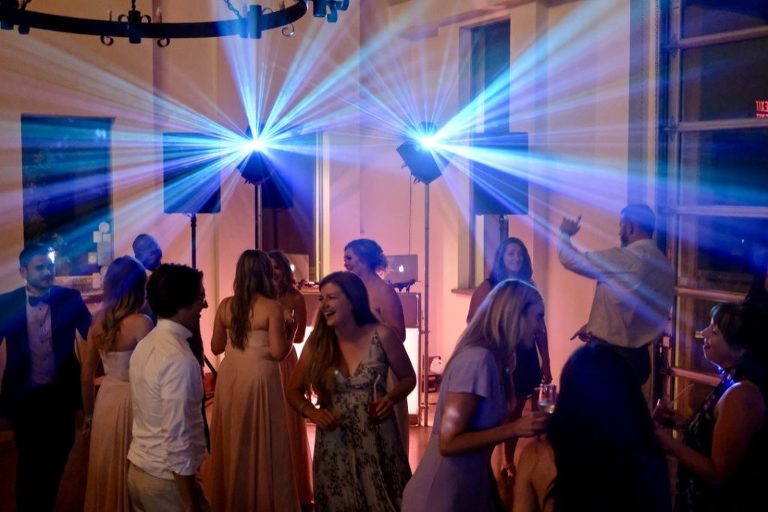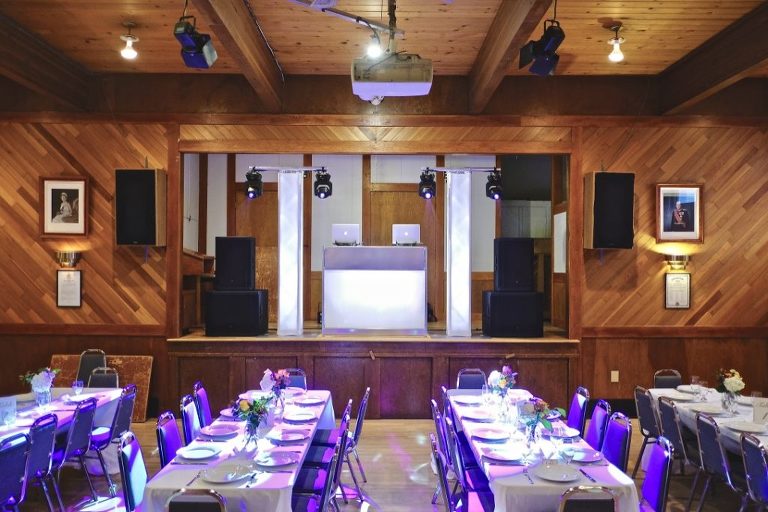 What song(s) are guaranteed to get the party started?
Old Time Rock and Roll (Bob Segar), Shut Up And Dance (Walk The Moon), You Make Lovin' Fun (Fleetwood Mac), and Uptown Funk (Bruno Mars) are always super successful.
What is your favourite thing about your job?
My personality thrives on how many different aspects there are to being a wedding DJ. It's not just about showing up and playing great tunes; it's about being a master of marketing, having an extensive knowledge of sound and lighting equipment, juggling the needs of several clients every week, keeping my suits clean and my dress shirts ironed, constantly updating my music library, learning how to pronounce people's names correctly, being approachable when a bride's stressed-out mother needs someone to vent to about the table centerpieces, being adaptable when nothing is going as planned, being a liaison between the clients, the photographer, the videographer, the MC (if I'm not already the MC myself) and the venue staff, and who could forget – constantly learning new and creative ways to mix completely different genres of music together.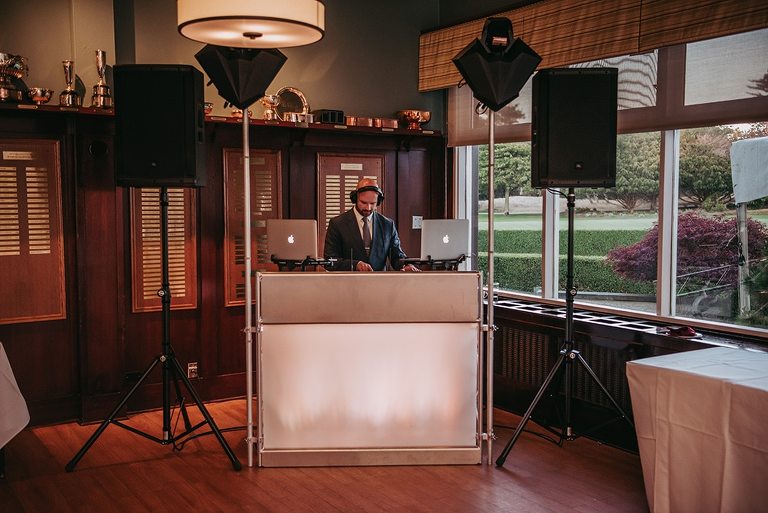 Do you have any tips for potential couples who are starting their wedding planning?
If you don't have a huge budget, pick two or three things that are the most important to you and put your money towards them. For example, maybe you want great food, an awesome dance party, and nice photos. So put your money towards the caterer, the DJ, and the photographer. Then, rent out a cheap hall, have your creative friends make the decorations, and don't spend $5000 on your wedding dress. This is an incredibly expensive industry, so you need to set your priorities before you plan anything.
What sets you apart from your competition?
The first is that I actually know how to mix, and I do a damn good job of it. So many wedding DJs just fade from song to song with complete disregard for the tempo, key, feel, or anything else. The musicality of my mix is very important to me – and my clients pick up on this. The second is that I have put tens of thousands of dollars into my equipment to ensure that I have a high-end sound system and a killer light show. So many DJs have the same tired old Mackie SRM 350 or Yorkville PS12p speakers for their sound system, and a couple super basic lighting effects that flash red, green and blue dots on everyone's face and make the photos look terrible. My cost is a little higher than the competition, but it's because I offer more of a production level service.
The third is that I could very well be considered the OCD kingpin of attention to detail. Those ceremony cues you gave me? They will be flawless. Those cables connecting all my equipment together? You can't even see them. The mic level of your MC? You'll be able to hear every word. I asked my wife if she could think of any other examples and she said "I don't know Chris – you're just kind of anal in general about trying to make all your DJ stuff perfect." Maybe she has a point, but I like to think of it as more "striving for excellence."
Any other thoughts you would like to add?
You should book me for your wedding!
Photography: Tulle & Tweed Photography & Supplied by DJ Chris Poynter